Steering column adjuster - dismantling and reassembly
Note: A new adjuster locknut and washer must be used on reassembly.
Dismantling
1 To dismantle the adjuster assembly, proceed as follows.
2 Remove the locknut and washer securing the adjuster through-bolt (see illustration).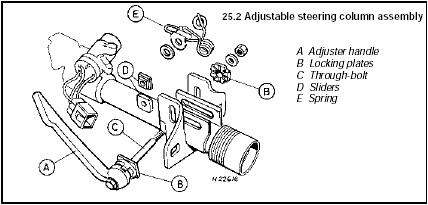 25.2 Adjustable steering column assembly
A Adjuster handle B Locking plates
C Through-bolt
D Sliders
E Spring
3 Remove the through-bolt, adjuster handle, locking plates, sliders and washers, then unclip the spring assembly.
Reassembly
4 Reassemble the components as follows.
5 Refit the spring to the adjuster assembly bracket.
6 Align the washers, sliders and locking plates, ensuring that the handle locking plate is fitted so that the cut-out and Ford logo are positioned as shown (see illustration).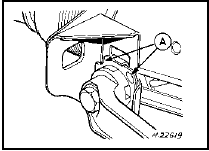 25.6 Cut-out and Ford logo (A) must be positioned as shown when reassembling adjustable steering column
7 Coat the through-bolt threads with a suitable thread-locking compound, then refit the through-bolt and the adjuster handle, ensuring that all components are engaged.
8 Position the handle in the locked position, and secure the through-bolt with a new locknut and washer.
See also:
Heater motor/fan - removal and refitting
Removal 1 Open the bonnet, disconnect the battery and pull off the rubber seal which seals the air inlet duct to the bonnet lid when the lid is closed. 2 Prise off the five spring clips from the ...
Tailgate lock (Hatchback and Estate models) - removal and refitting
Removal 1 Open the tailgate and prise out the trim panel using a wide-bladed screwdriver (see illustration). 12.1 Tailgate trim panel fixings - Hatchback and Estate models 2 Remove the lock bar ...
Ignition systems
The ignition system is divided into two circuits, low tension (primary) and high tension (secondary). The low tension circuit consists of the battery, ignition switch, primary coil windings and th ...