Fuel pressure regulator - removal and refitting
Removal
1 Remove the CFI unit as described in Section 8.
2 Remove the four screws securing the regulator housing to the CFI unit, then carefully lift off the housing and recover the ball, cup, large spring, diaphragm, valve, and small spring, noting the position and orientation of all components (see illustration).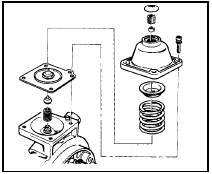 9.2 Exploded view of fuel pressure regulator - 1.4 CFI engine
Do not attempt to prise the plug from the regulator housing, or adjust the Allen screw (if no plug is fitted); this will alter the fuel system pressure.
3 Examine all components and renew any defective items as necessary Refitting
4 Commence reassembly by supporting the CFI unit on its side so that the regulator components can be fitted from above.
5 Fit the small spring, valve, diaphragm (ensuring that it locates correctly), large spring, and the spring cup.
6 Carefully place the ball into position on the spring cup, and ensure that it locates correctly.
7 Refit the regulator housing, taking great care to avoid disturbing the ball, and once correctly in position, tighten the screws evenly to avoid distorting the diaphragm.
8 Refit the CFI unit as described in Section 8.
9 On completion, the fuel system pressure should be checked by a Ford dealer at the earliest opportunity.
See also:
General information
CAUTIONS: Take care when handling external devices with exposed electrical connectors (such as the USB plug). Always replace the protective cap/shield when possible. There may be a risk of elect ...
Principle of operation
WARNING: When you are going downhill, your speed may increase above the set speed. The system will not apply the brakes but a warning will be given. The system allows you to set a speed, to whic ...
CVH engines
The 1.6 litre CVH engine was introduced in September 1991, to replace the 1.6 litre SOHC engine used previously in the Sierra range. The engine is broadly similar to the 1.8 litre (R2A type) CVH e ...