Fuel pressure regulator - removal and refitting
Removal
1 Remove the CFI unit as described in Section 8.
2 Remove the four screws securing the regulator housing to the CFI unit, then carefully lift off the housing and recover the ball, cup, large spring, diaphragm, valve, and small spring, noting the position and orientation of all components (see illustration).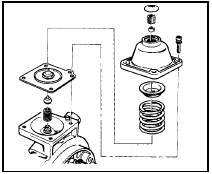 9.2 Exploded view of fuel pressure regulator - 1.4 CFI engine
Do not attempt to prise the plug from the regulator housing, or adjust the Allen screw (if no plug is fitted); this will alter the fuel system pressure.
3 Examine all components and renew any defective items as necessary Refitting
4 Commence reassembly by supporting the CFI unit on its side so that the regulator components can be fitted from above.
5 Fit the small spring, valve, diaphragm (ensuring that it locates correctly), large spring, and the spring cup.
6 Carefully place the ball into position on the spring cup, and ensure that it locates correctly.
7 Refit the regulator housing, taking great care to avoid disturbing the ball, and once correctly in position, tighten the screws evenly to avoid distorting the diaphragm.
8 Refit the CFI unit as described in Section 8.
9 On completion, the fuel system pressure should be checked by a Ford dealer at the earliest opportunity.
See also:
Fuel pump - removal and refitting
Caution: Refer to the precautions in Section 1 before proceeding. Mechanical pump Note: A new gasket must be used when refitting the pump. 1 Disconnect the battery negative lead. 2 For improved ...
Braking system warning lamps and electrical switches - removal and refitting
General 1 All models are fitted with a low fluid level warning switch in the master cylinder reservoir cap and a brake pedal stop-lamp switch. 2 Some versions have front disc pad wear sensors and ...
Sump - removal and refitting
Warning: A new sump gasket will be required on refitting, and suitable sealing compound will be required to coat the sump and cylinder block mating faces. Shims may be required when mating the e ...