Fuel pressure regulator - removal and refitting
Removal
1 Remove the CFI unit as described in Section 8.
2 Remove the four screws securing the regulator housing to the CFI unit, then carefully lift off the housing and recover the ball, cup, large spring, diaphragm, valve, and small spring, noting the position and orientation of all components (see illustration).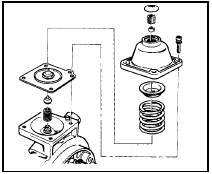 9.2 Exploded view of fuel pressure regulator - 1.4 CFI engine
Do not attempt to prise the plug from the regulator housing, or adjust the Allen screw (if no plug is fitted); this will alter the fuel system pressure.
3 Examine all components and renew any defective items as necessary Refitting
4 Commence reassembly by supporting the CFI unit on its side so that the regulator components can be fitted from above.
5 Fit the small spring, valve, diaphragm (ensuring that it locates correctly), large spring, and the spring cup.
6 Carefully place the ball into position on the spring cup, and ensure that it locates correctly.
7 Refit the regulator housing, taking great care to avoid disturbing the ball, and once correctly in position, tighten the screws evenly to avoid distorting the diaphragm.
8 Refit the CFI unit as described in Section 8.
9 On completion, the fuel system pressure should be checked by a Ford dealer at the earliest opportunity.
See also:
Engine mountings - renewal
1 The engine mountings incorporate hydraulic dampers and must be renewed if excessive engine movement is evident. 2 Working in the engine compartment, unscrew the central nuts securing the engine ...
Crankshaft rear oil seal - renewal
1 Remove the flywheel/driveplate. 2 Prise out the oil seal. If necessary, drill the outer face of the oil seal and use self-tapping screws and a pair of grips to withdraw the seal (see illustratio ...
Handbrake cable - adjustment
Note: Where fitted, the adjuster locking pin must be renewed on completion of adjustment. Conventional braking system (except P100 models) 1 The handbrake cable is normally self-adjusting in use ...