Steering intermediate shaft and flexible coupling - removal and refitting
Removal
1 Apply the handbrake, jack up the front of the vehicle and support on axle stands.
2 Working in the engine compartment, unscrew the bolt securing the intermediate shaft to the inner column, swivel the clamp plate to one side, and disconnect the intermediate shaft.
3 Unscrew and remove the clamp bolt securing the flexible coupling to the steering gear (see illustration).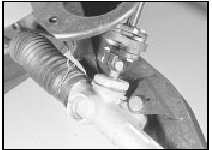 26.3 Intermediate shaft-to-steering gear flexible coupling
4 Mark the coupling in relation to the pinion, then pull off the intermediate shaft and remove it from the vehicle. The pinion has a master spline, but making alignment marks will aid refitting (see illustration).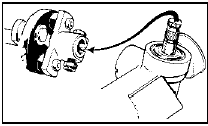 26.4 Master spline location on the steering gear pinion and intermediate shaft coupling
Refitting
5 Refitting is a reversal of removal, but align the marks on the coupling and pinion, and tighten all bolts to the specified torque.
See also:
Heated rear window aerial amplifier - removal and refitting
Removal 1 On some 1986 models onwards the radio aerial is incorporated in the heated rear window element, and to assist reception an amplifier is fitted. This is located in the tailgate adjacent ...
Radiator - removal and refitting
Removal 1 Disconnect the battery negative lead. 2 Drain the cooling system. 3 If not already done, disconnect the bottom hose from the radiator. 4 Disconnect the top hose and the expansion tank ...
Rear parcel shelf - removal and refitting
Removal 1 Open the tailgate fully and disengage the parcel shelf lifting strap loops from the tailgate retaining knobs. 2 Lift out the parcel shelf pivot pins from their notches in the support br ...