Front direction indicator lamp unit - removal and refitting
1 Disconnect the battery negative lead.
Models up to 1987
Low specification
2 Push the lamp unit rearwards into the bumper until the plastic retaining tang is heard to click in the locked position.
3 Withdraw the lamp unit from the front of the bumper and disconnect the wiring plug (see illustration).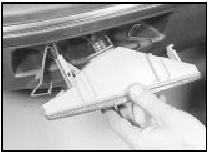 44.3 Withdrawing a front direction indicator lamp unit - "low specification" models up to 1987
4 Commence refitting by reconnecting the wiring plug.
5 Release the retaining tang, then refit the lamp unit to the bumper, ensuring that the pivot on the lamp unit engages with the slot in the bumper. Reconnect the battery.
High specification
6 Press the release lever at the top of the lamp unit upwards, and withdraw the unit from the bumper. Disconnect the wiring plug.
7 To refit, reconnect the wiring plug, then push the lamp unit into the bumper until it locates securely. Reconnect the battery.
All models from 1987
8 Working in the engine compartment, unhook the lamp unit anchor spring from its anchorage next to the headlamp, then withdraw the lamp unit sideways from its recess (see illustrations). Disconnect the bulbholder by twisting it anti-clockwise.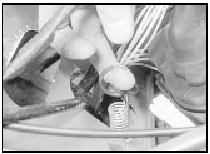 44.8a Unhook the front direction indicator lamp unit anchor spring . . .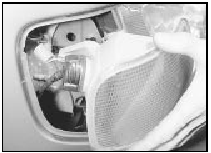 44.8b . . . and withdraw the lamp unit
9 Refitting is a reversal of removal, but ensure that the locating pins on the lamp unit engage with the corresponding holes in the headlamp mounting panel.
See also:
Locks and Security
KEYS The key operates all locks on your vehicle. In case of loss, replacement keys are available from your dealer. You should always carry a second key with you in a safe place in case you requi ...
Engine - refitting (manual gearbox in vehicle)
1 Reverse the procedure described in paragraphs 1 to 40, Section 5, noting the following points. 2 Before attempting to refit the engine, check that the clutch friction disc is centralised. 3 Che ...
Starter motor brushes - renewal
1 Starter motor brush renewal is a relatively difficult procedure, requiring skill in the use of a soldering iron. It should also be borne in mind that if the starter motor has been in service lon ...