Electric window components - removal and refitting
1 Disconnect the battery negative lead.
Switches
2 Prise the switch from its location using a thin-bladed screwdriver, and disconnect the wiring plug (see illustration).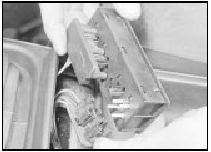 49.2 Disconnecting the wiring plug from a centre console-mounted electric window switch - models from 1987
3 Refitting is a reversal of removal.
Operating motors
4 Remove the window regulator.
5 Remove the three securing bolts, and withdraw the motor from the regulator assembly (see illustration).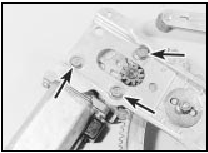 49.5 Electric window motor securing bolts (arrowed)
6 Refitting is a reversal of removal, but ensure that the drive gear is correctly meshed with the regulator.
See also:
Inner gutter weatherstrip (Saloon, Hatchback and Estate models) - removal and refitting
Removal 1 Open both the front and rear doors to expose the relevant weatherstrip. 2 Carefully pull the weatherstrip from the base of the front pillar, taking care to release the flap which is stu ...
General information and precautions
General information The fuel system comprises a centrally mounted fuel tank, electrically-operated fuel pump and Bosch K-Jetronic or KE-Jetronic continuous injection system according to model. Th ...
Engine mountings - renewal
1 The engine mountings incorporate hydraulic dampers and must be renewed if excessive engine movement is evident. 2 Working in the engine compartment, unscrew the central nuts securing the engine ...