Electric window components - removal and refitting
1 Disconnect the battery negative lead.
Switches
2 Prise the switch from its location using a thin-bladed screwdriver, and disconnect the wiring plug (see illustration).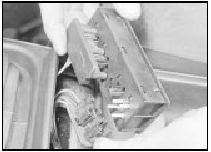 49.2 Disconnecting the wiring plug from a centre console-mounted electric window switch - models from 1987
3 Refitting is a reversal of removal.
Operating motors
4 Remove the window regulator.
5 Remove the three securing bolts, and withdraw the motor from the regulator assembly (see illustration).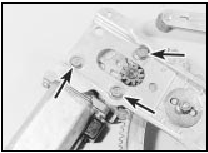 49.5 Electric window motor securing bolts (arrowed)
6 Refitting is a reversal of removal, but ensure that the drive gear is correctly meshed with the regulator.
See also:
Rear anti-roll bar (Saloon and Estate models) - removal and refitting
Removal 1 Slacken the left-hand roadwheel bolts, raise and support the rear of the car on stands (see "Jacking and Vehicle Support"). Remove the roadwheel. 2 Lever the shackles from the right and ...
Glove compartment - removal and refitting
Pre-1986 models Removal 1 Open the glovebox lid and extract the screws which hold the glovebox to the facia. 2 Remove the latch (two screws). 3 Remove the single screw inside the top of the glov ...
General description
The cooling system is of the pressurised pump-assisted thermo-syphon type. The system consists of the radiator, water pump, thermostat, electric cooling fan, expansion tank and associated hoses. ...