Electric window components - removal and refitting
1 Disconnect the battery negative lead.
Switches
2 Prise the switch from its location using a thin-bladed screwdriver, and disconnect the wiring plug (see illustration).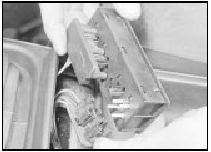 49.2 Disconnecting the wiring plug from a centre console-mounted electric window switch - models from 1987
3 Refitting is a reversal of removal.
Operating motors
4 Remove the window regulator.
5 Remove the three securing bolts, and withdraw the motor from the regulator assembly (see illustration).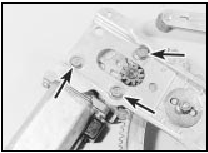 49.5 Electric window motor securing bolts (arrowed)
6 Refitting is a reversal of removal, but ensure that the drive gear is correctly meshed with the regulator.
See also:
Starter motor brushes - renewal
1 Starter motor brush renewal is a relatively difficult procedure, requiring skill in the use of a soldering iron. It should also be borne in mind that if the starter motor has been in service lon ...
Fluid leak check (Every 6000 miles or 6 months)
1 Visually inspect the engine joint faces, gaskets and seals for any signs of water or oil leaks. Pay particular attention to the areas around the rocker cover, cylinder head, oil filter and sump ...
Bumper components - removal and refitting
Bumper overriders Removal 1 On pre-1986 models the overrider is held to the bumper by a clamp screw. Find this screw on the underside of the bumper and release it - the overrider can then be with ...