Rocker gear - dismantling and reassembly
Dismantling 1 With the rocker assembly removed as described in Section 4, extract the split pin from one end of the rocker shaft (see illustration).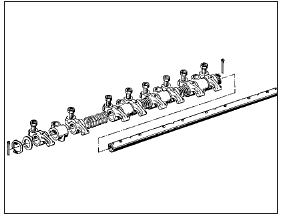 6.1 Rocker shaft assembly components
2 Take off the spring and plain washers from the end of the shaft.
3 Slide off the rocker arms, support pedestals and coil springs, keeping them in their originally fitted order. Clean out the oil holes in the shaft.
Reassembly
4 Apply engine oil to the rocker shaft before reassembling and make sure that the flat on the end of the shaft is to the same side as the rocker arm adjuster screws. This is essential for proper lubrication of the components.
See also:
Battery - testing and charging
Note: Refer to the precautions at the end of Section 1 before proceeding. Standard and low maintenance battery - testing 1 If the car covers a small annual mileage it is worthwhile checking the s ...
Door window glass and regulator - removal and refitting
Front door window glass - models with manual windows Saloon, Estate and Van models Removal 1 Remove the door trim panel, as described in Section 11. 2 Carefully peel back the waterproof sheet f ...
Carburettor overhaul - general information
Faults with the carburettor are usually associated with dirt entering the float chamber and blocking the jets, causing a weak mixture or power failure within a certain engine speed range. If this ...