Rocker gear - dismantling and reassembly
Dismantling 1 With the rocker assembly removed as described in Section 4, extract the split pin from one end of the rocker shaft (see illustration).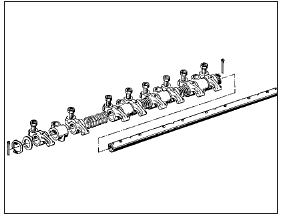 6.1 Rocker shaft assembly components
2 Take off the spring and plain washers from the end of the shaft.
3 Slide off the rocker arms, support pedestals and coil springs, keeping them in their originally fitted order. Clean out the oil holes in the shaft.
Reassembly
4 Apply engine oil to the rocker shaft before reassembling and make sure that the flat on the end of the shaft is to the same side as the rocker arm adjuster screws. This is essential for proper lubrication of the components.
See also:
Air cleaner - removal and refitting
Removal 1 On CVH models, disconnect the battery negative lead. 2 Remove the screws from the top of the air cleaner cover (see illustration). 3.2 Air cleaner securing screws (arrowed) 3 Disconn ...
Driving
Whichever version of the Galaxy you choose, you'll find confidence-inspiring handling and a composed and well-controlled approach to corners. Compared to softer competitors, this nimble, dynamic a ...
Ford Escort 1995 review
Affordability has become one of the major issues in the auto industry - for consumers as well as automakers. A decade ago, the average price of a new car was a bit more than $12,000, according t ...