Rocker gear - dismantling and reassembly
Dismantling 1 With the rocker assembly removed as described in Section 4, extract the split pin from one end of the rocker shaft (see illustration).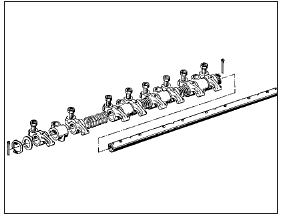 6.1 Rocker shaft assembly components
2 Take off the spring and plain washers from the end of the shaft.
3 Slide off the rocker arms, support pedestals and coil springs, keeping them in their originally fitted order. Clean out the oil holes in the shaft.
Reassembly
4 Apply engine oil to the rocker shaft before reassembling and make sure that the flat on the end of the shaft is to the same side as the rocker arm adjuster screws. This is essential for proper lubrication of the components.
See also:
Fuse labels
Fuse labels Fuse number A Circuits protected B Location (L = left and R = right) C Fuse rating (Amperes) D See Owner's handbook Airbag ABS Headlamp dipped beam Headlamp main beam ...
Programming the remote control
A maximum of eight remote controls (including any supplied with your vehicle) can be programmed. The remote controls must remain inside the vehicle during the programming procedure. Fasten the fro ...
Power steering fluid circuit - bleeding
1 Unscrew the filler cap from the power steering pump reservoir and top-up the fluid level to the maximum mark using the specified fluid. 2 Disconnect the low tension negative lead from the ignit ...