Rocker gear - dismantling and reassembly
Dismantling 1 With the rocker assembly removed as described in Section 4, extract the split pin from one end of the rocker shaft (see illustration).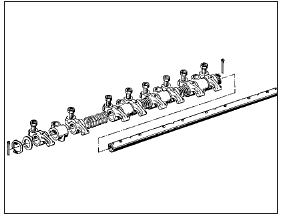 6.1 Rocker shaft assembly components
2 Take off the spring and plain washers from the end of the shaft.
3 Slide off the rocker arms, support pedestals and coil springs, keeping them in their originally fitted order. Clean out the oil holes in the shaft.
Reassembly
4 Apply engine oil to the rocker shaft before reassembling and make sure that the flat on the end of the shaft is to the same side as the rocker arm adjuster screws. This is essential for proper lubrication of the components.
See also:
Fuses and relays - location and renewal
Location 1 The main fuses and relays are located in a box in the engine compartment on the righthand side of the bulkhead. The circuits protected are identified by symbols on the underside of the ...
Carburettor (Weber 2V type) - fast idle speed adjustment
1 This procedure does not apply to models fitted with a carburettor stepper motor, for which no adjustment is possible. 2 Check the idle speed and mixture. The idle speed must be correct before at ...
Seat belt check (Every 6000 miles or 6 months)
1 Periodically check the belts for fraying or other damage. If evident, renew the belt. 2 If the belts become dirty, wipe them with a damp cloth using a little detergent only. 3 Check the tightnes ...