Rear roadspring (Van models) - removal and refitting
Removal
1 To remove the single leaf type rear roadspring from the Van, raise the rear of the vehicle and support it securely under the body members (see "Jacking and Vehicle Support").
Support the axle tube using a jack or stands.
2 Unscrew the spring U-bolt nuts and withdraw the bump rubber plate complete with shock absorber lower attachment (see illustration).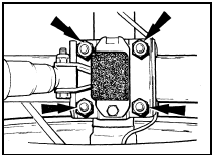 14.2 Rear roadspring U-bolt nuts (arrowed) - Van models
3 Disconnect the shackle from the rear end of the roadspring and pull the spring downward.
4 Unscrew and remove the spring front eye bolt and nut (see illustration).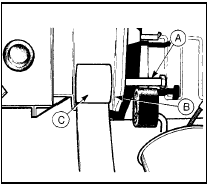 14.4 Rear roadspring front eye bolt - Van models
A Pivot bolt
B Mounting bracket
C Spring eye
5 Remove the spring from under the vehicle.
Refitting
6 Refit by reversing the removal operations, but do not tighten the nuts to the specified torque until the weight of the vehicle has been lowered onto the wheels.
7 On completion adjust the braking system light laden valve as described in Chapter 9.
See also:
Headlamps and auxiliary lamps - beam alignment
The headlamps are adjustable individually for both horizontal and vertical alignment from within the engine compartment. The auxiliary lamp adjustment is carried out by slackening the lamp mountin ...
Front seat air cushion assembly - removal and refitting
Complete assembly - removal and refitting 1 Remove the seat. 2 Straighten the seat back cover retaining tangs, and pull the cover upwards to expose the air cushion. 3 Cut through the four securi ...
Door trim panel - removal and refitting
Pre-1986 models Removal 1 On Ghia versions only, remove the panel capping by carefully prising out the retaining clips using a forked tool. This can easily be made from a piece of scrap metal. 2 ...