Rear roadspring (Van models) - removal and refitting
Removal
1 To remove the single leaf type rear roadspring from the Van, raise the rear of the vehicle and support it securely under the body members (see "Jacking and Vehicle Support").
Support the axle tube using a jack or stands.
2 Unscrew the spring U-bolt nuts and withdraw the bump rubber plate complete with shock absorber lower attachment (see illustration).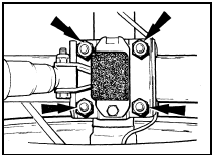 14.2 Rear roadspring U-bolt nuts (arrowed) - Van models
3 Disconnect the shackle from the rear end of the roadspring and pull the spring downward.
4 Unscrew and remove the spring front eye bolt and nut (see illustration).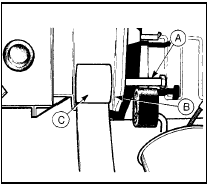 14.4 Rear roadspring front eye bolt - Van models
A Pivot bolt
B Mounting bracket
C Spring eye
5 Remove the spring from under the vehicle.
Refitting
6 Refit by reversing the removal operations, but do not tighten the nuts to the specified torque until the weight of the vehicle has been lowered onto the wheels.
7 On completion adjust the braking system light laden valve as described in Chapter 9.
See also:
Fuses and relays
Fuses If electrical components in the vehicle are not working, a fuse may have blown. Blown fuses are identified by a broken wire within the fuse. Check the appropriate fuses before replacing an ...
Idle Speed Control Valve (ISCV) - removal, cleaning and refitting
Removal 1 Disconnect the battery negative lead. 2 Disconnect the valve wiring plug (see illustration). 12.2 Idle speed control valve - 1.6 EFI engine A Wiring plug B Securing bolts 3 Unscrew t ...
Radiator - removal, inspection and refitting
All models except RS Turbo Pre-1986 models Removal 1 Drain the cooling system as described in Chapter 1. 2 Disconnect the battery negative terminal. 3 Release the retaining clips and disconnect ...