Rear roadspring (Van models) - removal and refitting
Removal
1 To remove the single leaf type rear roadspring from the Van, raise the rear of the vehicle and support it securely under the body members (see "Jacking and Vehicle Support").
Support the axle tube using a jack or stands.
2 Unscrew the spring U-bolt nuts and withdraw the bump rubber plate complete with shock absorber lower attachment (see illustration).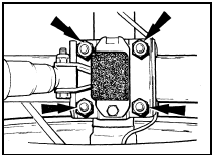 14.2 Rear roadspring U-bolt nuts (arrowed) - Van models
3 Disconnect the shackle from the rear end of the roadspring and pull the spring downward.
4 Unscrew and remove the spring front eye bolt and nut (see illustration).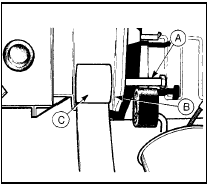 14.4 Rear roadspring front eye bolt - Van models
A Pivot bolt
B Mounting bracket
C Spring eye
5 Remove the spring from under the vehicle.
Refitting
6 Refit by reversing the removal operations, but do not tighten the nuts to the specified torque until the weight of the vehicle has been lowered onto the wheels.
7 On completion adjust the braking system light laden valve as described in Chapter 9.
See also:
Engine - removal leaving manual gearbox in vehicle
Note: The air conditioning system should always be discharged by a Ford dealer or air conditioning specialist. Note: Refer to the warning in Section 8 before proceeding. A suitable hoist and lifti ...
Seats - removal and refitting
Front seat 1 Slide the seat fully forwards, and on seats with height adjustment unhook the tension spring from the rear crosstube. Where applicable, disconnect the wiring from the seat heating pa ...
Seat belts - removal and refitting
Front belt - 3-door models Note: Note the fitted sequence of any plates, washers and spacers when unbolting the seat belt anchors. Removal 1 Slide the belt stalk cover upwards to expose the anch ...