Rear roadspring (Van models) - removal and refitting
Removal
1 To remove the single leaf type rear roadspring from the Van, raise the rear of the vehicle and support it securely under the body members (see "Jacking and Vehicle Support").
Support the axle tube using a jack or stands.
2 Unscrew the spring U-bolt nuts and withdraw the bump rubber plate complete with shock absorber lower attachment (see illustration).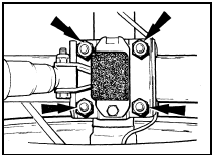 14.2 Rear roadspring U-bolt nuts (arrowed) - Van models
3 Disconnect the shackle from the rear end of the roadspring and pull the spring downward.
4 Unscrew and remove the spring front eye bolt and nut (see illustration).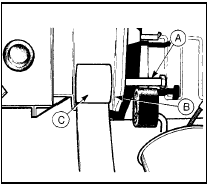 14.4 Rear roadspring front eye bolt - Van models
A Pivot bolt
B Mounting bracket
C Spring eye
5 Remove the spring from under the vehicle.
Refitting
6 Refit by reversing the removal operations, but do not tighten the nuts to the specified torque until the weight of the vehicle has been lowered onto the wheels.
7 On completion adjust the braking system light laden valve as described in Chapter 9.
See also:
General information
WARNING: Do not operate the information display controls when the vehicle is moving. Note: The information display will remain on for several minutes after you switch off the ignition. Various ...
Citroen service and repair manuals, user guides and other information
Citroën earned a reputation for innovation and revolutionary engineering, which is reflected in the company's slogan "Créative Technologie". Its history of innovation began with ...
Front direction indicator lamp unit - removal and refitting
1 Disconnect the battery negative lead. Models up to 1987 Low specification 2 Push the lamp unit rearwards into the bumper until the plastic retaining tang is heard to click in the locked positio ...