Air cleaner assembly - removal and refitting
Removal
1 Disconnect the battery negative terminal.
2 Disconnect the crankcase ventilation hoses which are accessible from above, from the air cleaner body (see illustration).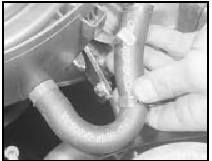 2.2 Disconnecting the crankcase ventilation hose at the air cleaner body
3 Disconnect the cold air inlet hose from the end of the air cleaner spout where applicable (see illustration).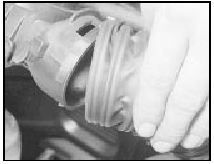 2.3 Cold air inlet hose removal from air cleaner spout
4 Where fitted, on CVH engines, pull out the crankcase emission valve from the underside of the air cleaner body.
5 Undo the retaining screws or bolts on the air cleaner lid and lift the unit off the carburettor.
6 On 1.1 and 1.3 litre HCS engines, unclip the fuel trap from the side of the air cleaner casing.
7 According to model, disconnect the vacuum hose and the remaining crankcase ventilation hose(s) as applicable, then remove the air cleaner from the engine.
Refitting
8 Refitting is a reversal of removal.
See also:
Manifold Absolute Pressure (MAP) sensor - removal and refitting
Removal 1 Disconnect the battery negative lead. 2 Disconnect the sensor wiring plug. Do not pull on the wiring. 3 Disconnect the vacuum hose from the sensor. 4 Remove the two securing screws and ...
Fuses and relays
Fuses If electrical components in the vehicle are not working, a fuse may have blown. Blown fuses are identified by a broken wire within the fuse. Check the appropriate fuses before replacing an ...
Braking system
General information and precautions General information The braking system is of the dual circuit hydraulic type. The front and rear circuits are operated independently from a tandem master cylin ...