Air cleaner assembly - removal and refitting
Removal
1 Disconnect the battery negative terminal.
2 Disconnect the crankcase ventilation hoses which are accessible from above, from the air cleaner body (see illustration).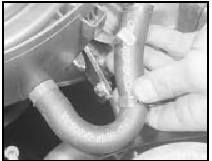 2.2 Disconnecting the crankcase ventilation hose at the air cleaner body
3 Disconnect the cold air inlet hose from the end of the air cleaner spout where applicable (see illustration).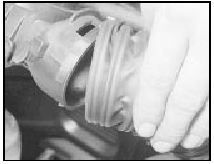 2.3 Cold air inlet hose removal from air cleaner spout
4 Where fitted, on CVH engines, pull out the crankcase emission valve from the underside of the air cleaner body.
5 Undo the retaining screws or bolts on the air cleaner lid and lift the unit off the carburettor.
6 On 1.1 and 1.3 litre HCS engines, unclip the fuel trap from the side of the air cleaner casing.
7 According to model, disconnect the vacuum hose and the remaining crankcase ventilation hose(s) as applicable, then remove the air cleaner from the engine.
Refitting
8 Refitting is a reversal of removal.
See also:
Anti-lock Braking System - description
1 From 1986 onward an anti-lock braking system is available as standard or optional equipment on certain Escort models. 2 The system comprises four main components: two modulators, one for each b ...
Engine - complete dismantling
1 The need for dismantling will have been dictated by wear or noise in most cases. Although there is no reason why only partial dismantling cannot be carried out to renew such items as the oil pum ...
Seat belt check (Every 6000 miles or 6 months)
1 Periodically check the belts for fraying or other damage. If evident, renew the belt. 2 If the belts become dirty, wipe them with a damp cloth using a little detergent only. 3 Check the tightnes ...