Air Charge Temperature (ACT) sensor - removal and refitting
Removal
1 The ACT sensor is screwed into the CFI unit.
2 Disconnect the battery negative lead.
3 Remove the air cleaner assembly.
4 Disconnect the ACT sensor wiring plug (see illustration).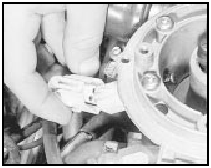 13.4 Disconnecting the ACT sensor wiring plug - 1.4 CFI engine
5 Unscrew the sensor from the CFI unit.
Refitting
6 Refitting is a reversal of removal.
See also:
Crankshaft front oil seal - renewal
Note: A new gasket will be required for refitting if the old seal housing is removed during this procedure. 1 Remove the timing belt and the crankshaft sprocket. 2 If an oil seal removal tool is ...
Servicing your tires
Checking the tire pressure Use an accurate tire pressure gauge. Check the tire pressure when tires are cold, after the vehicle has been parked for at least one hour or has been driven less tha ...
Engine - refitting (automatic transmission in vehicle)
1 Reverse the procedure described in Section 10, noting the following points: 2 Check that the engine adapter plate is correctly positioned on its locating dowels. 3 As the torque converter is onl ...