Alternator - removal and refitting
Note: Refer to the precautions at the end of Section 1 before proceeding.
Removal
1 The operations are similar for all makes of alternator.
2 Disconnect the battery negative terminal, then disconnect the multiplug or leads from the rear of the alternator.
3 On certain CVH engine models it may be necessary to remove the air cleaner hose, and disconnect the radiator bottom hose to give sufficient clearance to enable removal of the alternator, in which case the cooling system must be drained with reference to Chapter 1.
4 Release the mounting and adjuster link bolts, push the alternator in towards the engine and remove the drivebelt (see illustration). It may be necessary to remove the adjuster link-to-alternator bolt to facilitate removal of the drivebelt.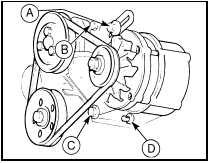 5.4 Alternator mounting and adjuster link bolts
A Adjuster link-to-alternator bolt B Adjuster link-to-engine bolt C and D Alternator mounting bolts
5 Undo and remove the mounting nuts and bolts and adjuster link bolt, if not already removed, and withdraw the alternator from the engine.
Refitting
6 Refitting is the reverse sequence to removal, bearing in mind the following points.
a) Ensure that the mounting bolts and washers are assembled as shown (see illustrations).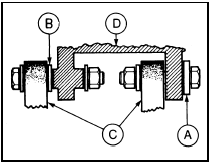 5.6a Correct fitting of alternator mounting components - early models
A Large washer
B Small washer (pre-1985 CVH engines only) C Mounting bracket
D Alternator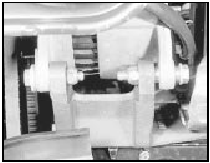 5.6b Alternator mounting bolt arrangement - later models
b) Adjust the drivebelt tension as described in Chapter 1.
c) On completion, where applicable, refill the cooling system as described in Chapter 1.
See also:
Seat belts - removal and refitting
Front belt - 3-door models Note: Note the fitted sequence of any plates, washers and spacers when unbolting the seat belt anchors. Removal 1 Slide the belt stalk cover upwards to expose the anch ...
Engine/transmission - reconnection and installation
1 This is a direct reversal of removal and separation from the transmission. Take care not to damage the radiator or front wings during installation. Reconnection 2 Make sure that the engine adap ...
Pistons and connecting rods - examination and renovation
1.8 litre (R2A type) 1 Examine the pistons for ovality, scoring, and scratches. Check the connecting rods for wear or damage. 2 The gudgeon pins are an interference fit in the connecting rods, an ...