Handbrake lever - removal and refitting
Removal
1 Chock the front wheels, raise and support the vehicle at the rear using stands (see "Jacking and Vehicle Support") then release the handbrake.
2 Working underneath, extract the spring clip and clevis pin and disconnect the primary cable from the equaliser.
3 From inside the car detach the handbrake warning switch.
4 Disconnect the cable from the handbrake lever by extracting the clip and clevis pin (see illustration).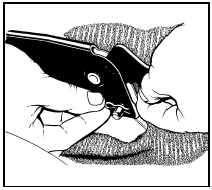 10.4 Removing handbrake lever clevis pin and clip
5 Unscrew the lever securing bolts and remove the lever.
Refitting
6 Refitting is the reverse sequence to removal. On completion adjust the handbrake cable, if necessary, as described in Section 8.
See also:
Speed control (if equipped)
With speed control set, you can maintain a speed of 48 km/h (30 mph) or more without keeping your foot on the pedal. Speed control does not work at speeds below 48 km/h (30 mph). Do not use the spe ...
General Repair Procedures
Whenever servicing, repair or overhaul work is carried out on the car or its components, it is necessary to observe the following procedures and instructions. This will assist in carrying out the ...
Spark plugs and HT leads - removal, inspection and refitting
Note: The correct functioning of the spark plugs is vital for the correct running and efficiency of the engine. It is essential that the plugs fitted are appropriate for the engine, and the suitabl ...