Handbrake lever - removal and refitting
Removal
1 Chock the front wheels, raise and support the vehicle at the rear using stands (see "Jacking and Vehicle Support") then release the handbrake.
2 Working underneath, extract the spring clip and clevis pin and disconnect the primary cable from the equaliser.
3 From inside the car detach the handbrake warning switch.
4 Disconnect the cable from the handbrake lever by extracting the clip and clevis pin (see illustration).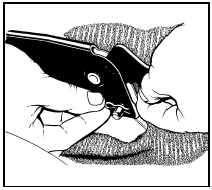 10.4 Removing handbrake lever clevis pin and clip
5 Unscrew the lever securing bolts and remove the lever.
Refitting
6 Refitting is the reverse sequence to removal. On completion adjust the handbrake cable, if necessary, as described in Section 8.
See also:
Service recommendations
To help you service your vehicle: We highlight do-it-yourself items in the engine compartment for easy location. We provide a scheduled maintenance guide which makes tracking routine service ...
Front hub bearings - renewal
Note: A new driveshaft nut, and a new tie-rod balljoint split-pin must be used on refitting. 1 Remove the wheel trim and release the staking on the driveshaft retaining nut using a suitable punch. ...
Exhaust system - renewal
1 The layout of the exhaust system varies considerably according to model and engine. All except the RS Turbo versions can be renewed in sections; coupling sleeves are supplied, enabling an old se ...