Vacuum servo unit and linkage - removal and refitting
Removal
1 Refer to Section 12 and remove the master cylinder.
2 On fuel-injection models unclip and lift out the front section of the heater plenum chamber to provide access to the connecting linkage across the lower bulkhead (see illustration).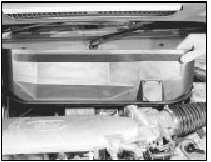 16.2 Heater plenum chamber removal
3 Working inside the vehicle, remove the spring clip which attaches the pushrod to the arm of the brake pedal.
4 Unscrew the nuts which hold the servo to its mounting bracket, also the servo support brace to the body.
5 Disconnect the valve hose from the servo.
6 Detach the linkage arm spring at the rear of the servo and then pull the servo forward until the servo operating rod can be unclipped from the linkage.
7 Remove the servo from the vehicle. It must be renewed if defective, no repair is possible.
8 If necessary, the rest of the servo operating linkage can be removed from under the instrument panel once the covering and cowl side trim have been removed from above the brake pedal inside the vehicle. Unbolt the connecting link bracket from the driver's side (see illustrations).

16.8a Vacuum servo unit connecting linkage
A Grommet
B Connecting link
C Bush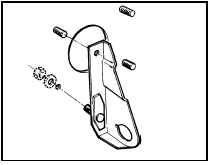 16.8b Vacuum servo unit connecting link bracket on driver's side
Refitting 9 Refitting is the reverse sequence to removal. Refit the master cylinder as described in Section 12 and bleed the hydraulic system as described in Sections 11 or 23 as applicable.
See also:
Vehicle loading
Before loading a vehicle, familiarize yourself with the following terms: Base Curb Weight: Weight of the vehicle including any standard equipment, fluids, lubricants, etc. It does not include oc ...
General information
1.6 litre engine The 1.6 litre CVH engine was introduced in September 1991, to replace the 1.6 litre SOHC engine used previously in the Sierra range. The engine is broadly similar to the 1.8 litr ...
Cylinder head - removal and refitting
Carburettor engines Removal Note: The cylinder head must only be removed when the engine is cold. New cylinder head bolts and a new gasket must be used on refitting. 1 Disconnect the battery ear ...