Rear tie-bar (Saloon and Estate models) - removal and refitting
Removal
1 Before attempting to remove a tie-bar, note the location of all washers and bushes. These control the rear wheel alignment and they must be returned to their original locations.
2 Raise the rear of the vehicle and support it with stands (see "Jacking and Vehicle Support").
3 Unscrew and remove the pivot bolt from the eye at the front end of the tie-bar (see illustration).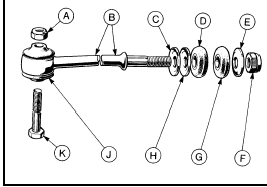 12.3 Exploded view of the rear tie-bar mountings - Saloon and Estate models
A Nut
B Tie-bar
C Washer (additionalwashers may be fitted)
D Bush
E Washer
F Nut
G Bush
H Washer (additional washers may be fitted)
J Bush
K Pivot bolt
4 Unscrew the nut from the rear end of the tie-bar, take off the washers and bushes as the tie-bar is withdrawn and keep them in strict sequence for refitting (see illustration).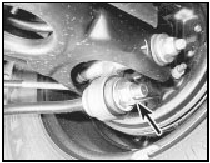 12.4 Tie-bar-to-stub axle carrier retaining nut (arrowed) - Saloon and Estate models
Refitting 5 Renewal of the tie-bar flexible bush is quite easily carried out using sockets or distance pieces and applying pressure in the jaws of a vice.
6 Refit the tie-bar by reversing the removal operations.
See also:
General information and precautions
The body electrical system consists of all lights, wash/wipe equipment, interior electrical equipment, and associated switches and wiring. The electrical system is of the 12 volt negative earth t ...
Spark plug renewal - RS Turbo models (Every 6000 miles or 6 months)
1 The correct functioning of the spark plugs is vital for the correct running and efficiency of the engine. It is essential that the plugs fitted are appropriate for the engine, and the suitable t ...
Manual steering gear - removal and refitting
Note: A balljoint separator tool will be required for this operation. Removal 1 Set the front wheels in the straight-ahead position. Ensure that the steering lock is engaged and remove the igniti ...