Seating
Notes:
Reclining the seatback can cause an occupant to slide under the seat's safety belt, resulting in severe personal injuries in the event of a collision.
Do not pile cargo higher than the seatbacks to reduce the risk of injury in a collision or sudden stop.
Adjustable head restraints (if equipped)
Head restraints help to limit head motion in the event of a rear collision.
Adjust your head restraint so that it is located directly or as close as possible behind your head.
The head restraints can be moved up and down.
Push control to lower head restraint.
Adjusting the front manual seat
Never adjust the driver's seat or seatback when the vehicle is moving.
Always drive and ride with your seatback upright and the lap belt snug and low across the hips.
Lift handle to move seat forward or backward.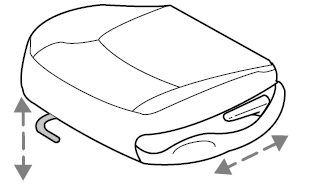 Pull lever up to adjust seatback.
FOLDING DOWN THE REAR SEATS
To fold the seatback down:
Press the latch control downward or pull up on strap and
Pull the seatback forward and down.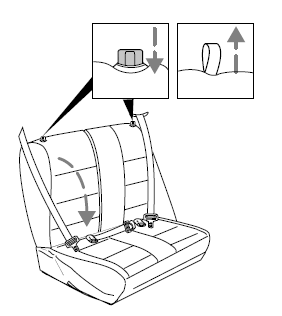 RETURNING THE SEAT TO THE UPRIGHT POSITION
Check to see that the seat and seatback is latched securely in position. Keep floor area free of objects that would prevent proper seat engagement. Never attempt to adjust the seat while the vehicle is in motion.
To return the seat to the upright/normal seating position:
Rotate seat upward and latch.
The full rear bench seat is shown. The split-folding rear seat (if equipped) operates in a similar manner.