Rear roadspring (Van models) - removal and refitting
Removal
1 To remove the single leaf type rear roadspring from the Van, raise the rear of the vehicle and support it securely under the body members (see "Jacking and Vehicle Support").
Support the axle tube using a jack or stands.
2 Unscrew the spring U-bolt nuts and withdraw the bump rubber plate complete with shock absorber lower attachment (see illustration).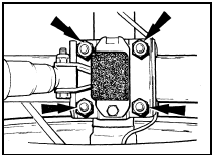 14.2 Rear roadspring U-bolt nuts (arrowed) - Van models
3 Disconnect the shackle from the rear end of the roadspring and pull the spring downward.
4 Unscrew and remove the spring front eye bolt and nut (see illustration).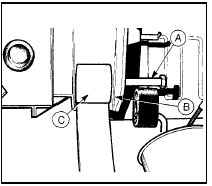 14.4 Rear roadspring front eye bolt - Van models
A Pivot bolt
B Mounting bracket
C Spring eye
5 Remove the spring from under the vehicle.
Refitting
6 Refit by reversing the removal operations, but do not tighten the nuts to the specified torque until the weight of the vehicle has been lowered onto the wheels.
7 On completion adjust the braking system light laden valve as described in Chapter 9.
See also:
Rear shock absorber - removal and refitting
Saloon and Hatchback models 1 With the weight of the vehicle resting on the roadwheels, work under the vehicle to unscrew and remove the shock absorber lower mounting bolt and nut from the relevan ...
Camshaft and cam followers - removal, inspection and refitting
Note: A new camshaft oil seal and new rocker arm securing nuts should be used when refitting. 1.8 litre (R2A type) Removal 1 Remove the cylinder head. 2 Unscrew the securing bolts and remove the ...
Handbrake cables - renewal
1 Chock the front wheels, then fully release the handbrake. 2 Raise and support the vehicle at the rear with axle stands (see "Jacking and Vehicle Support"). Primary cable 3 Extract the spring c ...