Crankcase ventilation system check (Every 12 000 miles (20 000 km) or 12 months)
1 Inspect the crankcase ventilation system for blockage or damage. A blocked hose can cause a build-up of crankcase pressure, which in turn can cause oil leaks (see illustration).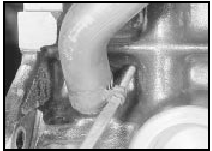 35.1 Loosening the crankcase ventilation hose clip - CVH models
2 On carburettor model SOHC engines, clean the oil filler cap with paraffin and check that the vent valve is not blocked by pulling it from the oil separator and loosening the hose clip (Section 42).
3 On CVH engines, check that the oil separator and mushroom valve are not blocked, and clean if necessary (see illustration).

35.3 Oil separator (1) and mushroom valve (2) locations in air cleaner - CVH models
See also:
Engine/transmission - removal and separation
Note: Suitable lifting tackle will be required for this operation. Carburettor engines Removal 1 The engine is removed complete with the transmission in a downward direction and then withdrawn f ...
Bulbs
Replacing exterior bulbs Check the operation of all the bulbs frequently. Using the right bulbs Replacement bulbs are specified in the chart below. Headlamp bulbs must be marked with an authorized ...
Interior trim panels - removal and refitting
Rear quarter trim panel Removal 1 Unbolt the seat belt from its floor mounting. 2 Pass the belt buckle slide through the panel aperture. 3 Pull the seat cushion and backrest forward. 4 Extract t ...