Crankcase ventilation system check (Every 12 000 miles (20 000 km) or 12 months)
1 Inspect the crankcase ventilation system for blockage or damage. A blocked hose can cause a build-up of crankcase pressure, which in turn can cause oil leaks (see illustration).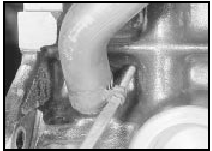 35.1 Loosening the crankcase ventilation hose clip - CVH models
2 On carburettor model SOHC engines, clean the oil filler cap with paraffin and check that the vent valve is not blocked by pulling it from the oil separator and loosening the hose clip (Section 42).
3 On CVH engines, check that the oil separator and mushroom valve are not blocked, and clean if necessary (see illustration).

35.3 Oil separator (1) and mushroom valve (2) locations in air cleaner - CVH models
See also:
Throttle housing - removal and refitting
Note: A new gasket must be used on refitting. Removal 1 Disconnect the battery negative lead. 2 Depressurise the fuel system as described in Section 6. 3 Remove the air inlet pipe (see illustrati ...
Boot lid (Cabriolet models) - removal and refitting
Removal 1 Open the boot and prop it open using a length of wood. 2 Pull out the clips securing the gas strut and remove the strut. 3 Working inside the boot, undo the nuts securing the hinge ass ...
Starter motor - testing in the vehicle
1 If the starter motor fails to operate first check the condition of the battery. 2 Check the security and condition of all relevant wiring. Solenoid check 3 Disconnect the battery negative lead ...