Crankcase ventilation system check (Every 12 000 miles (20 000 km) or 12 months)
1 Inspect the crankcase ventilation system for blockage or damage. A blocked hose can cause a build-up of crankcase pressure, which in turn can cause oil leaks (see illustration).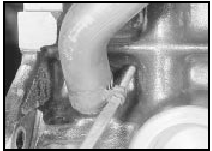 35.1 Loosening the crankcase ventilation hose clip - CVH models
2 On carburettor model SOHC engines, clean the oil filler cap with paraffin and check that the vent valve is not blocked by pulling it from the oil separator and loosening the hose clip (Section 42).
3 On CVH engines, check that the oil separator and mushroom valve are not blocked, and clean if necessary (see illustration).

35.3 Oil separator (1) and mushroom valve (2) locations in air cleaner - CVH models
See also:
Boot lid (Saloon models) - removal and refitting
Removal 1 Open the boot lid, and place protective covers (old rags or cardboard) beneath the corners of the lid, and over the rear wings to prevent damage to the paintwork. 2 Where applicable, di ...
Ignition systems
The ignition system is divided into two circuits, low tension (primary) and high tension (secondary). The low tension circuit consists of the battery, ignition switch, primary coil windings and th ...
Contact breaker points renewal (Every 12 000 miles or 12 months)
1 Spring back the retaining clips or undo the screws as appropriate and lift off the distributor cap. 2 Withdraw the rotor arm from the distributor shaft. 3 On the Bosch distributor disconnect th ...