Heater motor - removal and refitting
Removal
1 Disconnect the battery negative lead.
2 Where necessary, unclip the brake servo vacuum hose for improved access.
3 On models from 1987, unclip the windscreen washer hoses and wiring from the motor cover, and secure them to the bodywork out of the way.
4 Unscrew the two securing bolts from the motor cover, pull off the rubber moulding, then withdraw the cover (see illustration).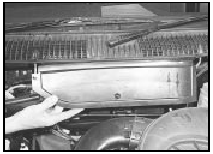 20.4 Unscrew the securing bolts and withdraw the heater motor cover
5 Disconnect the wiring from the motor, and detach the earth lead from its bracket.
6 Unscrew the two motor securing nuts, and withdraw the motor assembly (see illustration).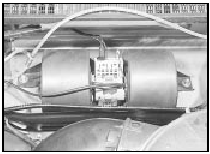 20.6 Heater motor and wiring
7 Unclip the casing halves, then prise open the motor retaining strap using a screwdriver, or if necessary a drift.
8 Detach the wiring from the motor, then remove the motor and fan wheels from the casing.
Refitting
9 Refitting is a reversal of removal.
See also:
Cooling, heating and air conditioning systems
General information and precautions General information The cooling system is of pressurised type, and consists of a front mounted radiator, coolant pump, cooling fan, wax type thermostat, and an ...
EEC IV module - removal and refitting
Removal 1 The EEC IV module is located behind the centre console, beneath the trim panel (see illustration). 20.1 EEC IV module location (arrowed) 1.4 CFI engine 2 Disconnect the battery negati ...
Cylinder head and pistons - decarbonising
OHV engines 1 With the cylinder head removed (Section 4), the carbon deposits should be removed from the combustion spaces using a scraper and a wire brush fitted into an electric drill. Take care ...