Heater motor - removal and refitting
Removal
1 Disconnect the battery negative lead.
2 Where necessary, unclip the brake servo vacuum hose for improved access.
3 On models from 1987, unclip the windscreen washer hoses and wiring from the motor cover, and secure them to the bodywork out of the way.
4 Unscrew the two securing bolts from the motor cover, pull off the rubber moulding, then withdraw the cover (see illustration).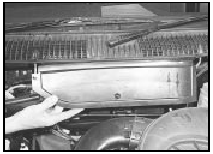 20.4 Unscrew the securing bolts and withdraw the heater motor cover
5 Disconnect the wiring from the motor, and detach the earth lead from its bracket.
6 Unscrew the two motor securing nuts, and withdraw the motor assembly (see illustration).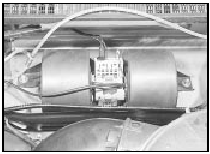 20.6 Heater motor and wiring
7 Unclip the casing halves, then prise open the motor retaining strap using a screwdriver, or if necessary a drift.
8 Detach the wiring from the motor, then remove the motor and fan wheels from the casing.
Refitting
9 Refitting is a reversal of removal.
See also:
Major operations possible with the engine in the car
The following work can be carried out without having to remove the engine: a) Cylinder head - removal and refitting. b) Valve clearances - adjustment (see Chapter 1). c) Sump - removal and refitt ...
Oil pump - removal and refitting
Note: A suitable puller will be required to remove the crankshaft pulley. A new crankshaft pulley bolt, a new lower timing chain cover gasket, and a new oil pump gasket, must be used on refitting. ...
Ignition HT coil - testing, removal and refitting
Note: Refer to the precautions given in Section 1 before proceeding. All except models with DIS ignition system Testing 1 Accurate checking of the coil output requires the use of special test eq ...