Heater motor - removal and refitting
Removal
1 Disconnect the battery negative lead.
2 Where necessary, unclip the brake servo vacuum hose for improved access.
3 On models from 1987, unclip the windscreen washer hoses and wiring from the motor cover, and secure them to the bodywork out of the way.
4 Unscrew the two securing bolts from the motor cover, pull off the rubber moulding, then withdraw the cover (see illustration).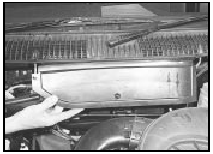 20.4 Unscrew the securing bolts and withdraw the heater motor cover
5 Disconnect the wiring from the motor, and detach the earth lead from its bracket.
6 Unscrew the two motor securing nuts, and withdraw the motor assembly (see illustration).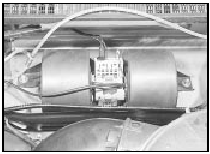 20.6 Heater motor and wiring
7 Unclip the casing halves, then prise open the motor retaining strap using a screwdriver, or if necessary a drift.
8 Detach the wiring from the motor, then remove the motor and fan wheels from the casing.
Refitting
9 Refitting is a reversal of removal.
See also:
Interior pillar trim panels - removal and refitting
Front pillar 1 Remove the two trim panel securing screws and withdraw the panel (see illustration).. 41.1 Interior pillar trim panel fixings - Hatchback models A Front pillar trim panel B1 Cent ...
Manual transmission oil level check (Every 12 000 miles or 12 months)
1 With the car on level ground wipe the area around the filler plug, then unscrew the plug using a socket spanner, or on later versions a suitable Torx or Allen key or socket bit, as applicable. A ...
Braking system
General information and precautions General information The braking system is of the dual circuit hydraulic type. The front and rear circuits are operated independently from a tandem master cylin ...