Fuel system (1.6 and 1.8 litre (R6A type) CVH) - depressurisation
Remember to depressurise the fuel system before loosening any connections.
Refer to the precautions in Section 1 before proceeding. The fuel system will remain pressurised after the engine is switched off.
1 Disconnect the battery negative lead.
2 Remove the air cleaner assembly.
3 Position a suitable container (or a sufficient quantity of absorbent cloth) beneath the fuel inlet connection on the CFI unit.
4 Use an open-ended spanner on the flats of the inlet union screwed into the CFI unit, to prevent it from turning while the inlet pipe union is loosened (see illustration). Allow all pressure/fuel seepage to dissipate before fully unscrewing the union if it is to be disconnected, or tightened if another part of the system is to be worked on.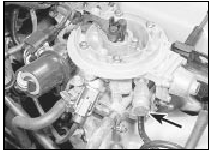 4.4 CFI unit fuel inlet union (arrowed)
5 The system will remain depressurised until the fuel pump is primed prior to starting the engine. Remove the container or cloth, as applicable, on completion.
Fuel filter - renewal
Refer to Chapter 1, Section 41.
See also:
Pressure regulating valve (Saloon and Estate models) - removal and refitting
1 The brake pressure regulating valve is located within the engine compartment, just above the aperture in the wing inner panel through which the steering tie-rod passes. On pre-1986 models the va ...
Driveshaft check (Every 12 000 miles or 12 months)
1 Carry out a thorough inspection of the driveshafts and joints as follows. 2 Jack up the front of the car and support it securely on axle stands (see "Jacking and Vehicle Support"). 3 Slowly rot ...
Minor body damage - repair
Repair of minor scratches in bodywork If the scratch is very superficial, and does not penetrate to the metal of the bodywork, repair is very simple. Lightly rub the area of the scratch with a pa ...