Fuel system (1.6 and 1.8 litre (R6A type) CVH) - depressurisation
Remember to depressurise the fuel system before loosening any connections.
Refer to the precautions in Section 1 before proceeding. The fuel system will remain pressurised after the engine is switched off.
1 Disconnect the battery negative lead.
2 Remove the air cleaner assembly.
3 Position a suitable container (or a sufficient quantity of absorbent cloth) beneath the fuel inlet connection on the CFI unit.
4 Use an open-ended spanner on the flats of the inlet union screwed into the CFI unit, to prevent it from turning while the inlet pipe union is loosened (see illustration). Allow all pressure/fuel seepage to dissipate before fully unscrewing the union if it is to be disconnected, or tightened if another part of the system is to be worked on.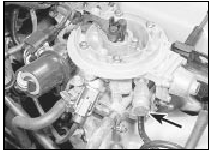 4.4 CFI unit fuel inlet union (arrowed)
5 The system will remain depressurised until the fuel pump is primed prior to starting the engine. Remove the container or cloth, as applicable, on completion.
Fuel filter - renewal
Refer to Chapter 1, Section 41.
See also:
Water pump - removal and refitting
OHV engines Note: A new gasket and suitable jointing compound must be used on refitting. Removal 1 Drain the cooling system as described in Chapter 1. 2 Slacken the three water pump pulley reta ...
General description
The independent front suspension is of the MacPherson strut type, incorporating coil springs and integral telescopic shock absorbers. Lateral location of each strut assembly is by a forged or pres ...
Auxiliary warning system components - removal and refitting
General 1 This system monitors the fluid levels and front brake pads for excessive wear. In the event of a fluid level dropping below the specified level, or the brake pads wearing down to the mi ...