Fuel filler flap - removal and refitting
Removal
1 Open the filler flap and the tailgate or boot lid, as applicable.
2 Remove the fuel filler cap and then remove the screw securing the filler housing to the fuel tank neck (see illustration).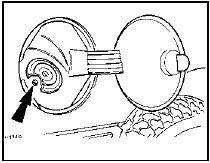 37.2 Fuel filler housing securing screw (arrowed)
3 Working inside the luggage compartment, depress the filler housing retaining tangs, and push the assembly out through the body panel. Recover the gasket.
4 Immerse the housing assembly in a container of hot water for approximately ten minutes, then prise the hinge cover from the housing, and using a screwdriver, prise the filler flap hinge legs out of the sockets in the housing.
Refitting
5 Commence refitting by warming the filler flap and housing, as during removal, then push the flap hinge legs into the housing.
6 Further refitting is a reversal of removal, ensuring that the housing gasket and retaining tangs are correctly located.
See also:
Engine coolant
Checking engine coolant The concentration and level of engine coolant should be checked at the mileage intervals listed in the scheduled maintenance guide. The coolant concentration should be maint ...
Camshaft and cam followers - removal, inspection and refitting
Note: A new camshaft oil seal and new rocker arm securing nuts should be used when refitting. 1.8 litre (R2A type) Removal 1 Remove the cylinder head. 2 Unscrew the securing bolts and remove the ...
Hydraulic system - bleeding (conventional braking system)
Note: On cars equipped with the Anti-lock Braking System, refer to Section 23. Warning: Hydraulic fluid is poisonous; wash off immediately and thoroughly in the case of skin contact, and seek imm ...