Exhaust gas oxygen (HEGO) sensor (2.0 litre DOHC/1.6 & 1.8 litre (R6A type) CVH) - removal and refitting
Note: Do not touch the tip of the HEGO sensor as this will drastically shorten its service life.
Note: A new sealing ring should be used on refitting.
Removal
1 Ensure that the engine and the exhaust system are cold.
2 Disconnect the battery negative lead.
3 Apply the handbrake, then jack up the front of the vehicle, and support it securely on axle stands (see "Jacking and Vehicle Support").
4 Disconnect the sensor wiring plug halves by releasing the locktabs and pulling on the plug halves, not the wiring.
5 Where fitted, slide the heat shield from the sensor (see illustration).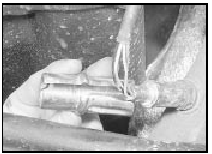 35.5 Sliding the heat shield from the exhaust gas oxygen sensor
6 Unscrew the sensor from the exhaust downpipe, and recover the sealing ring. Do not touch the tip of the sensor if it is to be refitted.
Refitting
7 Commence refitting by ensuring that the sensor threads and the corresponding threads in the downpipe are clean.
8 Refit the sensor using a new sealing ring, and tighten it to the specified torque.
9 Further refitting is a reversal of removal, but on completion start the engine, and check for leaks around the sensor sealing ring.
See also:
Bulbs (interior lamps) - renewal
Pre-1986 models Glove compartment lamp 1 This is simply a matter of gently pulling the bulb from its holder. Heater control illumination lamp 2 Slide the heater control levers to the top of thei ...
Exhaust system - renewal
1 The layout of the exhaust system varies considerably according to model and engine. All except the RS Turbo versions can be renewed in sections; coupling sleeves are supplied, enabling an old se ...
Customer Assistance
FORD EXTENDED SERVICE PLAN You can get more protection for your new car or light truck by purchasing Ford Extended Service Plan (Ford ESP) coverage. Ford ESP is an optional service contract which i ...