Tie-rod end - removal and refitting
Note: A balljoint separator tool will be required for this operation.
Removal
1 Loosen the relevant front roadwheel nuts, apply the handbrake, jack up the front of the vehicle and support on axle stands.
2 Remove the roadwheel. On P100 models mark the position of the roadwheel in relation to one of the wheel studs before removal.
3 Make alignment marks on the tie-rod and tie-rod end, then loosen the locknut by a quarter of a turn.
4 Extract the split pin and unscrew the castellated nut (see illustration).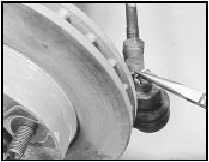 33.4 Extracting the split pin from the tierod balljoint castellated nut
5 Using a balljoint separator tool, release the tie-rod end from the hub carrier (see illustration).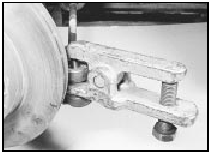 33.5 Using a balljoint separator tool to release the tie-rod end from the hub carrier
6 Unscrew the tie-rod end from the tie-rod, noting the number of turns necessary to remove it.
Refitting
7 Refitting is a reversal of removal, bearing in mind the following points.
8 Screw the tie-rod end onto the tie-rod the number of turns noted during removal.
9 Tighten the nuts to the specified torque, and fit a new split pin to the castellated nut.
10 On P100 models, align the previously made marks on the roadwheel and wheel stud.
11 On completion, check and if necessary adjust the front wheel alignment.
See also:
Exhaust system - renewal
1 The layout of the exhaust system varies considerably according to model and engine. All except the RS Turbo versions can be renewed in sections; coupling sleeves are supplied, enabling an old se ...
Air conditioning system - component renewal
1 Only those items which can be renewed without discharging the system are described here (see illustration). Other items must be dealt with by a Ford dealer or air conditioning specialist. 21. ...
Ignition HT coil - testing, removal and refitting
Note: Refer to the precautions given in Section 1 before proceeding. All except models with DIS ignition system Testing 1 Accurate checking of the coil output requires the use of special test eq ...