Opening rear quarter window - removal and refitting
Removal
1 Remove the rear pillar interior trim panel.
2 Remove the two screws securing the window catch to the body (see illustration).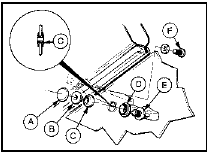 26.2 Opening the rear quarter window catch
A Cap
B Retainer
C Grommet
D Spacer
E Catch
F Screw (one of two)
3 Prise the two screw covers from the hinges.
Support the glass, and remove the two hinge screws, then lift out the glass (see illustration).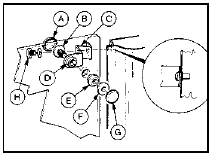 26.3 Opening the rear quarter window hinge
A Cap
B Screw
C Hinge
D Spacer
E Grommet
F Retainer
G Cap
H Screw
4 If a new window is to be fitted, transfer the catch to it.
Refitting
5 Refitting is a reversal of removal.
See also:
Road test (Every 12 000 miles (20 000 km) or 12 months)
Instruments and electrical equipment 1 Check the operation of all instruments and electrical equipment. 2 Make sure that all instruments read correctly, and switch on all electrical equipment in ...
Tie-rod end - removal and refitting
Note: A balljoint separator tool will be required for this operation. Removal 1 Loosen the relevant front roadwheel nuts, apply the handbrake, jack up the front of the vehicle and support on axle ...
Instrument panel components - removal and refitting
Panel illumination and warning lamp bulbs Removal 1 Remove the instrument panel as described in Section 9. 2 Turn the bulbholders anti-clockwise and remove them from the rear of the instrument ...