Opening rear quarter window - removal and refitting
Removal
1 Remove the rear pillar interior trim panel.
2 Remove the two screws securing the window catch to the body (see illustration).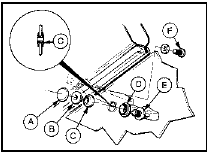 26.2 Opening the rear quarter window catch
A Cap
B Retainer
C Grommet
D Spacer
E Catch
F Screw (one of two)
3 Prise the two screw covers from the hinges.
Support the glass, and remove the two hinge screws, then lift out the glass (see illustration).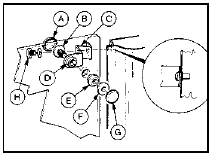 26.3 Opening the rear quarter window hinge
A Cap
B Screw
C Hinge
D Spacer
E Grommet
F Retainer
G Cap
H Screw
4 If a new window is to be fitted, transfer the catch to it.
Refitting
5 Refitting is a reversal of removal.
See also:
Anti-lock Braking System - description
1 From 1986 onward an anti-lock braking system is available as standard or optional equipment on certain Escort models. 2 The system comprises four main components: two modulators, one for each b ...
Hydraulic unit pressure switch (ABS) - removal and refitting
Note: To remove the pressure switch from the hydraulic unit in situ, Ford tool No 12-008 or a locally made equivalent will be required. The switch may be removed without special tools after removi ...
Handbrake cable - adjustment
Note: Where fitted, the adjuster locking pin must be renewed on completion of adjustment. Conventional braking system (except P100 models) 1 The handbrake cable is normally self-adjusting in use ...