Opening rear quarter window - removal and refitting
Removal
1 Remove the rear pillar interior trim panel.
2 Remove the two screws securing the window catch to the body (see illustration).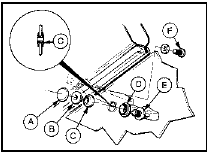 26.2 Opening the rear quarter window catch
A Cap
B Retainer
C Grommet
D Spacer
E Catch
F Screw (one of two)
3 Prise the two screw covers from the hinges.
Support the glass, and remove the two hinge screws, then lift out the glass (see illustration).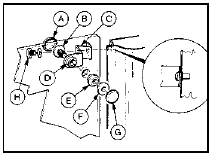 26.3 Opening the rear quarter window hinge
A Cap
B Screw
C Hinge
D Spacer
E Grommet
F Retainer
G Cap
H Screw
4 If a new window is to be fitted, transfer the catch to it.
Refitting
5 Refitting is a reversal of removal.
See also:
Ignition timing (OHC models) - adjustment
Note: During production the ignition timing is accurately set using a microwave process, and sealant is applied to the distributor clamp bolt. Because the electronic components require no maintena ...
Alternator - testing
Note: To carry out the complete test procedure use only the following test equipment - a 0 to 20 volt moving coil voltmeter, a 0 to 100 amp moving coil ammeter, and a rheostat rated at 30 amps. 1 ...
AM/FM stereo/cassette
Volume/power control Press the control to turn the audio system on or off. Turn control to raise or lower volume. If the volume is set above a certain level and the ignition is turned off, ...