Introduction
CALIFORNIA Proposition 65 Warning
WARNING: Engine exhaust, some of its constituents, and certain vehicle components contain or emit chemicals known to the State of California to cause cancer and birth defects or other reproductive harm. In addition, certain fluids contained in vehicles and certain products of component wear contain or emit chemicals known to the State of California to cause cancer and birth defects or other reproductive harm.
CONGRATULATIONS
Congratulations on acquiring your new Ford Motor Company product.
Please take the time to get well acquainted with your vehicle by reading this handbook. The more you know and understand about your vehicle the greater the safety and pleasure you will derive from driving it.
For more information on Ford Motor Company and its products visit the following website:
In the United States: www.ford.com
In Canada: www.ford.ca
In Mexico: www.ford.com.mx
In Australia: www.ford.com.au
Additional owner information is given in separate publications.
This Owner's Guide describes every option and model variant available and therefore some of the items covered may not apply to your particular vehicle. Furthermore, due to printing cycles it may describe options before they are generally available.
Remember to pass on the Owner's Guide when reselling the vehicle. It is an integral part of the vehicle.
Fuel pump shut-off switch In the event of an accident the safety switch will automatically cut off the fuel supply to the engine. The switch can also be activated through sudden vibration (e.g.
collision when parking). To reset the switch, refer to the Fuel pump shut-off switch in the Roadside emergencies chapter.
SAFETY AND ENVIRONMENT PROTECTION
Warning symbols in this guide
How can you reduce the risk of personal injury and prevent possible damage to others, your vehicle and its equipment? In this guide, answers to such questions are contained in comments highlighted by the warning triangle symbol. These comments should be read and observed.
Warning symbols on your vehicle
When you see this symbol, it is imperative that you consult the relevant section of this guide before touching or attempting adjustment of any kind.
Protecting the environment
We must all play our part in protecting the environment. Correct vehicle usage and the authorized disposal of waste cleaning and lubrication materials are significant steps towards this aim. Information in this respect is highlighted in this guide with the tree symbol.
BREAKING-IN YOUR VEHICLE
Your vehicle does not need an extensive break-in. Try not to drive continuously at the same speed for the first 1,600 km (1,000 miles) of new vehicle operation. Vary your speed to allow parts to adjust themselves to other parts.
Drive your new vehicle at least 800 km(500 miles) before towing a trailer.
Do not add friction modifier compounds or special break-in oils during the first few thousand kilometers (miles) of operation, since these additives may prevent piston ring seating. See Engine oil in the Maintenance and care chapter for more information on oil usage.
SPECIAL NOTICES
Emission warranty
The New Vehicle Limited Warranty includes Bumper-to-Bumper Coverage, Safety Restraint Coverage, Corrosion Coverage, and 7.3L Power Stroke Diesel Engine Coverage. In addition, your vehicle is eligible for Emissions Defect and Emissions Performance Warranties. For a detailed description of what is covered and what is not covered, refer to the Warranty Guide that is provided to you along with your Owner's Guide.
Special instructions
For your added safety, your vehicle is fitted with sophisticated electronic controls.
Please read the section Air bag in the Seating and safety restraints chapter. Failure to follow the specific warnings and instructions could result in personal injury.
Front seat mounted rear facing child or infant seats should NEVER be used in front of a passenger side air bag unless the air bag can be and is turned OFF.
Data Recording
Computers in your vehicle are capable of recording detailed data potentially including but not limited to information such as:
the use of restraint systems including seat belts by the driver and passengers,
information about the performance of various systems and modules in the vehicle, and
information related to engine, throttle, steering, brake or other system status.
Any of this information could potentially including information regarding how the driver operates the vehicle potentially including but not limited to information regarding vehicle speed, brake or accelerator application or steering input. This information may be stored during regular operation or in a crash or near crash event.
This stored information may be read out and used by:
Ford Motor Company.
service and repair facilities.
law enforcement or government agencies.
others who may assert a right or obtain your consent to know such information.
These are some of the symbols you may see on your vehicle.
Vehicle Symbol Glossary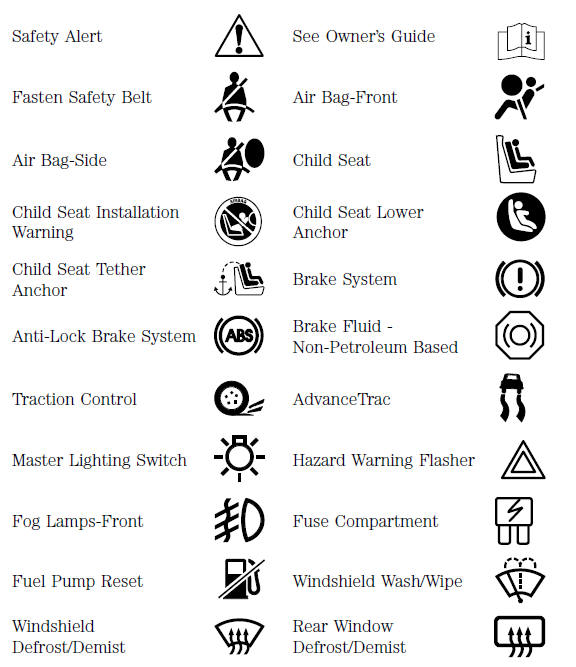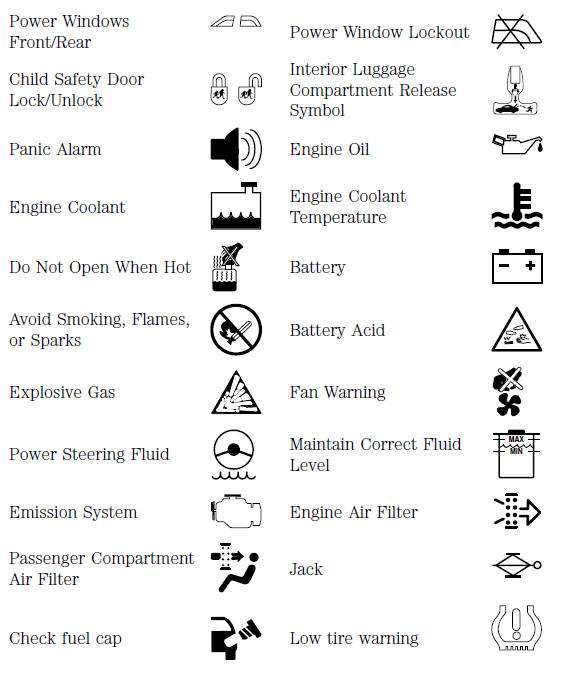 See also:
Specifications
Battery Type . . . . . . . . . . . . . . . . . . . . . . . . . . . . . . . . . . . . . . . . . . . . . . . . . . . . 12 volt lead-acid, 35 to 52 Ah depending on model Charge condition: Poor . . . ...
Engine/transmission - removal and separation
Note: Suitable lifting tackle will be required for this operation. Carburettor engines Removal 1 The engine is removed complete with the transmission in a downward direction and then withdrawn f ...
Engine - removal leaving manual gearbox in vehicle
Note: A suitable hoist and lifting tackle will be required for this operation. 1.8 litre (R2A type) 1 Disconnect the battery negative lead. 2 Remove the bonnet. 3 Remove the air cleaner. 4 Disco ...