Multi-function lever
Windshield wiper:
For intermittent wiping, move the control down one position and rotate the wiper switch to the desired position.
For low speed wiping, move the control down two positions.
For high speed wiping, move the control down three positions.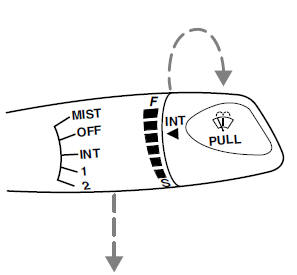 Windshield washer:
For mist wiping, move the control up one position.
To spray the washer fluid, pull the wiper control toward you.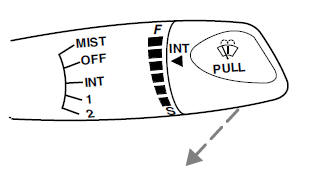 Changing the wiper blades
1. Pull the wiper arm away from the vehicle. Turn the blade at an angle from the wiper arm. Push the lock pin manually to release the blade and pull the wiper blade down toward the windshield to remove it from the arm.
2. Attach the new wiper to the wiper arm and press it into place until a click is heard.
3. Replace wiper blades every 6 months for optimum performance.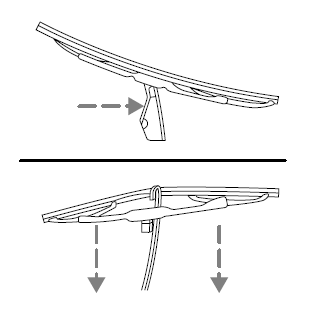 TILT STEERING (IF EQUIPPED)
Pull the tilt steering control down to move the steering wheel up or down. Hold the control while adjusting the wheel to the desired position, then push the control back up to lock the steering wheel in position.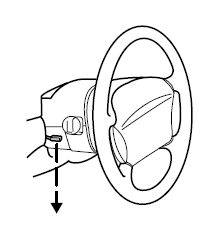 Never adjust the steering wheel when the vehicle is moving.
POWER WINDOWS (IF EQUIPPED)
When closing the power windows, you should verify they are free of obstructions and ensure that children and/or pets are not in the proximity of the window openings.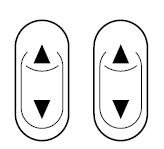 Press and hold the bottom part of the rocker switch to open the window.
Press and hold the top part of the rocker switch to close the window.
One touch down
Allows the driver's window to open fully without holding the control down. Press completely down on the bottom part of the rocker switch and release quickly. Press again to stop.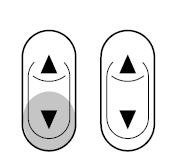 POWER SIDE VIEW MIRRORS (IF EQUIPPED)

To adjust your mirrors
1. Select L to adjust the left mirror or R to adjust the right mirror.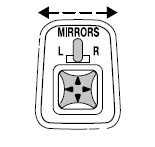 2. Move the control in the direction you wish to tilt the mirror.
3. Return to the center position to disable the adjust function.
See also:
Door window regulator - removal and refitting
Removal 1 Remove the door inner trim panel. 2 Where necessary for improved access, peel back the waterproof plastic sheet from the door. 3 Lower the window until the lower support channel is vis ...
Anti-lock Braking System - description
1 From 1986 onward an anti-lock braking system is available as standard or optional equipment on certain Escort models. 2 The system comprises four main components: two modulators, one for each b ...
Front wheel bearings - renewal
1 Remove the hub carrier. 2 Reverse the roadwheel nuts and screw them fully onto the studs to protect the threads, then mount the hub carrier assembly in a vice as shown (see illustration). 6.2 ...