Crankcase emission control filter renewal - CVH engines (Every 24 000 miles or 2 Years)
Carburettor and Central Fuel Injection (CFI) engines
1 Where fitted, the crankcase ventilation filter is located in the base of the air cleaner.
2 The filter can be renewed by pulling it out of the air cleaner after disconnecting the hoses (see illustration).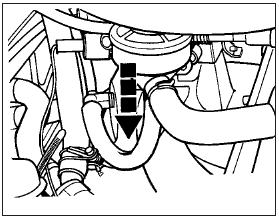 35.2 Crankcase ventilation filter renewal on CVH engines with carburettor
3 Ensure that the sealing grommet is in position in the air cleaner before pushing a new filter into place.
Bosch K-Jetronic and KE-Jetronic fuel injection engines
4 The filter is located on the right-hand side of the engine and can be removed after disconnecting the hoses (see illustration). On early versions, detach the filter from its support bracket.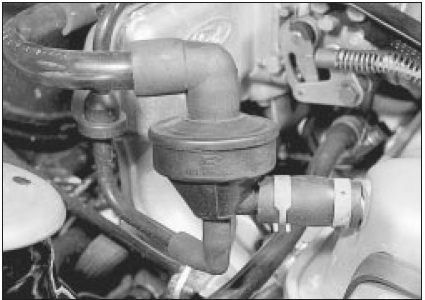 35.4 Crankcase ventilation filter location on KE-Jetronic fuel injection engines
5 Refitting is a reversal of removal, ensuring that the hoses are correctly reconnected.
Electronic Fuel Injection (EFI) engines
6 The filter is located in the hose run to the air cleaner. Note the locations of the hoses to ensure correct reconnection.
See also:
Radio aerial (exteriormounted) - removal and refitting
1 On models fitted with an electric aerial, disconnect the battery negative lead. Saloon and Estate models 2 Remove the right-hand side trim panel from the luggage compartment. 3 Working outside ...
Throttle housing - removal and refitting
Note: During manufacture the throttle plate is adjusted so that it is fractionally open, to avoid the possibility of it jamming shut, and it must not be repositioned. Idle speed adjustment is prov ...
Rear drum brake shoes - inspection and renewal
Caution: Refer to the precautions in Section 1 1 The shoe friction material can be inspected for wear without removing the roadwheels. Working beneath the vehicle, prise the plug from the brake b ...