Temperature gauge sender unit - removal and refitting
Note: Suitable jointing compound will be required on refitting.
Removal
1 With the engine cold unscrew the pressure cap on the thermostat housing or expansion tank as applicable, then refit it. This will release any residual pressure in the system and minimise coolant loss when the sender unit is removed.
2 Disconnect the wiring and unscrew the sender unit located on the forward facing side of the cylinder head, below the thermostat housing on OHV engines, or adjacent to the thermostat housing on CVH engines (see illustrations).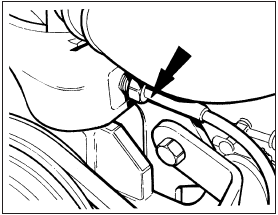 7.2a Temperature gauge sender unit location in cylinder head - OHV engines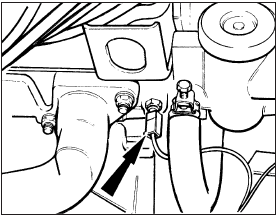 7.2b Temperature gauge sender unit location in cylinder head - CVH engines
Refitting 3 To refit, smear the threads of the sender unit with jointing compound and screw it into the cylinder head securely.
4 Reconnect the wiring and top-up the cooling system as described in Chapter 1.
See also:
Camshaft - removal and refitting
Carburettor engines Note: Thread locking compound will be required to coat the camshaft sprocket bolt on refitting. Removal 1 Disconnect the battery negative lead. 2 Refer to the relevant Part o ...
Front brake disc pad check (Every 6000 miles or 6 months)
1 Place a mirror between the roadwheel and the caliper and check the thickness of the friction material of the disc pads (see illustration). If the material has worn down to the specified minimum ...
Loudspeakers - removal and refitting
1 Disconnect the battery earth lead. Facia panel-mounted speakers Upper 2 Prise the speaker grille from its four retaining clips in the facia using a thin-bladed screwdriver. 3 Remove the four s ...