Temperature gauge sender unit - removal and refitting
Note: Suitable jointing compound will be required on refitting.
Removal
1 With the engine cold unscrew the pressure cap on the thermostat housing or expansion tank as applicable, then refit it. This will release any residual pressure in the system and minimise coolant loss when the sender unit is removed.
2 Disconnect the wiring and unscrew the sender unit located on the forward facing side of the cylinder head, below the thermostat housing on OHV engines, or adjacent to the thermostat housing on CVH engines (see illustrations).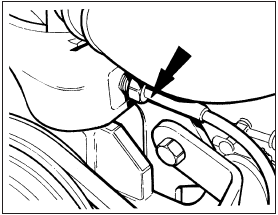 7.2a Temperature gauge sender unit location in cylinder head - OHV engines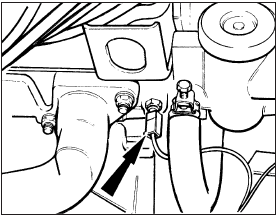 7.2b Temperature gauge sender unit location in cylinder head - CVH engines
Refitting 3 To refit, smear the threads of the sender unit with jointing compound and screw it into the cylinder head securely.
4 Reconnect the wiring and top-up the cooling system as described in Chapter 1.
See also:
Minor body damage - repair
Repair of minor scratches in bodywork If the scratch is very superficial, and does not penetrate to the metal of the bodywork, repair is very simple. Lightly rub the area of the scratch with a pa ...
Driveshaft check (Every 12 000 miles (20 000 km) or 12 months)
1 Position the vehicle over a pit, or raise it at front and rear on ramps or axle stands (see "Jacking and vehicle support"). 2 Examine the driveshaft joint rubber gaiters. Flex the gaiters by han ...
Brake and clutch fluid check
WARNINGS: Do not allow the fluid to touch your skin or eyes. If this happens, rinse the affected areas immediately with plenty of water and contact your doctor. If the level is at the MIN mark, h ...