Heater controls - adjustment
1 On heaters with lever control, set both control levers approximately 2.0 mm up from their lowest setting. On heaters with rotary controls set the controls just off the COLD and CLOSED positions.
2 Release the securing bolts on the cable clamps and pull the temperature control and air direction flap valve arms to the COLD and CLOSED positions respectively (see illustration). Check to see that the setting of the levers or rotary knobs on the control panel has not changed and retighten the cable clamps.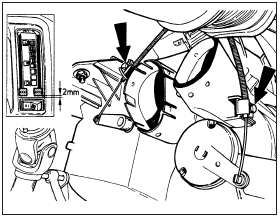 9.2 Heater control cable connections (arrowed) - pre-1986 models
See also:
Audio control
Select radio, CD or cassette mode on the audio unit. The following functions can be operated with the remote control: Volume Volume up: Press the top button on the back of the remote control. ...
Using booster cables
CAUTIONS: Connect batteries with only the same nominal voltage. Always use booster cables with insulated clamps and adequate size cable. Do not disconnect the battery from the vehicle's electri ...
Using the telephone - Vehicles Without: Navigation System
This chapter describes the phone functions of the audio unit. Note: Refer to your audio guide for details of the controls. An active phone must be present. Even if connected to the audio unit, yo ...