Heater controls - adjustment
1 On heaters with lever control, set both control levers approximately 2.0 mm up from their lowest setting. On heaters with rotary controls set the controls just off the COLD and CLOSED positions.
2 Release the securing bolts on the cable clamps and pull the temperature control and air direction flap valve arms to the COLD and CLOSED positions respectively (see illustration). Check to see that the setting of the levers or rotary knobs on the control panel has not changed and retighten the cable clamps.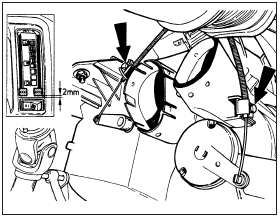 9.2 Heater control cable connections (arrowed) - pre-1986 models
See also:
Fuel system - depressurising
Warning: The fuel system will remain pressurised after the engine is switched off. Comply with relevant safety precautions during this operation and refer to the "Safety First" Section at the beg ...
Weber 2V carburettor - removal and refitting
Note: Refer to the warning at the end of Section 1 before proceeding. XR3 models Removal 1 Disconnect the battery negative lead. 2 Remove the air cleaner as described in Section 2. 3 Disconnect ...
Rear brake shoe lining check (Every 6000 miles or 6 months)
1 Due to the fact that the rear brake drums are combined with the hubs, which makes removal of the drums more complicated than is the case with detachable drums, inspection of the shoe linings can ...