Air cleaner assembly - removal and refitting
Removal
1 Disconnect the battery negative terminal.
2 Disconnect the crankcase ventilation hoses which are accessible from above, from the air cleaner body (see illustration).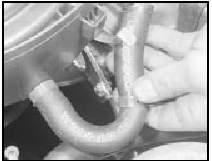 2.2 Disconnecting the crankcase ventilation hose at the air cleaner body
3 Disconnect the cold air inlet hose from the end of the air cleaner spout where applicable (see illustration).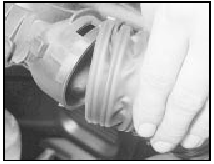 2.3 Cold air inlet hose removal from air cleaner spout
4 Where fitted, on CVH engines, pull out the crankcase emission valve from the underside of the air cleaner body.
5 Undo the retaining screws or bolts on the air cleaner lid and lift the unit off the carburettor.
6 On 1.1 and 1.3 litre HCS engines, unclip the fuel trap from the side of the air cleaner casing.
7 According to model, disconnect the vacuum hose and the remaining crankcase ventilation hose(s) as applicable, then remove the air cleaner from the engine.
Refitting
8 Refitting is a reversal of removal.
See also:
Front brake caliper - removal, overhaul and refitting
Warning: Hydraulic fluid is poisonous; wash off immediately and thoroughly in the case of skin contact, and seek immediate medical advice if any fluid is swallowed or gets into the eyes. Certain ...
Throttle cable - adjustment, removal and refitting
Adjustment The procedure is the same as described in Part A of this Chapter for carburettor engines, except that the cable adjuster is situated in a bracket alongside the throttle housing. Remova ...
Brake hydraulic system (ABS) - bleeding
Caution: The rear brake hydraulic circuit may be under considerable pressure, take care not to allow hydraulic fluid to spray into the face or eyes. Refer to the precautions in Section 1. 1 Keep ...