Air cleaner assembly - removal and refitting
Removal
1 Disconnect the battery negative terminal.
2 Disconnect the crankcase ventilation hoses which are accessible from above, from the air cleaner body (see illustration).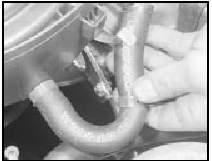 2.2 Disconnecting the crankcase ventilation hose at the air cleaner body
3 Disconnect the cold air inlet hose from the end of the air cleaner spout where applicable (see illustration).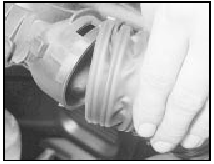 2.3 Cold air inlet hose removal from air cleaner spout
4 Where fitted, on CVH engines, pull out the crankcase emission valve from the underside of the air cleaner body.
5 Undo the retaining screws or bolts on the air cleaner lid and lift the unit off the carburettor.
6 On 1.1 and 1.3 litre HCS engines, unclip the fuel trap from the side of the air cleaner casing.
7 According to model, disconnect the vacuum hose and the remaining crankcase ventilation hose(s) as applicable, then remove the air cleaner from the engine.
Refitting
8 Refitting is a reversal of removal.
See also:
Brake drum - inspection and renewal
Note: Before starting work, refer to the note at the beginning of Section 2 concerning the dangers of asbestos dust. 1 Whenever a brake drum is removed, brush out dust from it, taking care not to ...
Examination and renovation
1 Clean all components using paraffin and a stiff brush, except the crankshaft, which should be wiped clean and the oil passages cleaned out with a length of wire. 2 Never assume that a component ...
Waste gate solenoid control valve - removal and refitting
Removal 1 The solenoid control valve is mounted on a bracket located underneath the ignition distributor (see illustration). 21.1 Waste gate solenoid control valve location (arrowed) 2 Disconne ...