Charge air temperature sensor - removal and refitting
Removal
1 The charge air temperature sensor is only used on KE-Jetronic systems and is located in the air inlet duct (see illustration).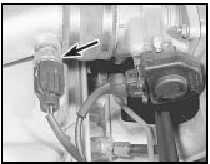 17.1 Charge air temperature sensor location (arrowed)
2 Disconnect the battery negative lead.
3 Disconnect the wiring multi-plug and unscrew the sensor from its location.
Refitting
4 Refitting is the reversal of removal.
See also:
1998 Escort ZX2
When we took the Detroit News Blue Ribbon Panel through the North American International Auto Show in January, the twentysomethings in the group had a lot of gripes about the Escort ZX2 coupe - wh ...
Steering wheel - centralising
1 This operation is for correcting small errors in steering wheel centralisation - up to 60º. For larger errors, remove the steering wheel and make a rough correction by repositioning the whe ...
Removing a headlamp
1. Open the bonnet. See Opening and closing the bonnet. 2. Remove the screws. 3. Disconnect the electrical connector. 4. Remove the headlamp. Note: When fitting the headlamp, make sure that ...