Charge air temperature sensor - removal and refitting
Removal
1 The charge air temperature sensor is only used on KE-Jetronic systems and is located in the air inlet duct (see illustration).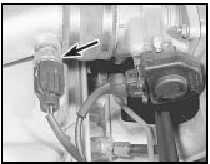 17.1 Charge air temperature sensor location (arrowed)
2 Disconnect the battery negative lead.
3 Disconnect the wiring multi-plug and unscrew the sensor from its location.
Refitting
4 Refitting is the reversal of removal.
See also:
Cylinder head and pistons - decarbonising
1 With the cylinder head removed as described in Section 7, the carbon deposits should be removed from the combustion surfaces using a blunt scraper. Take great care as the head is of light alloy ...
Inspecting your tires and wheel valve stems
Periodically inspect the tire treads for uneven or excessive wear and remove objects such as stones, nails or glass that may be wedged in the tread grooves. Check the tire and valve stems for holes, ...
Principle of operation
WARNING: When you are going downhill, your speed may increase above the set speed. The system will not apply the brakes but a warning will be given. The system allows you to set a speed, to whic ...