Charge air temperature sensor - removal and refitting
Removal
1 The charge air temperature sensor is only used on KE-Jetronic systems and is located in the air inlet duct (see illustration).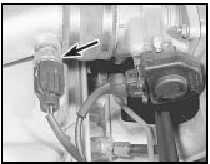 17.1 Charge air temperature sensor location (arrowed)
2 Disconnect the battery negative lead.
3 Disconnect the wiring multi-plug and unscrew the sensor from its location.
Refitting
4 Refitting is the reversal of removal.
See also:
Front hub bearings - renewal
Note: A new driveshaft nut, and a new tie-rod balljoint split-pin must be used on refitting. 1 Remove the wheel trim and release the staking on the driveshaft retaining nut using a suitable punch. ...
Engine mountings - renewal
Proceed as described in Chapter 2, Part C, but note that on certain models it may be necessary to unbolt the engine mounting brackets from the cylinder block to allow sufficient clearance to remov ...
General information
The model range includes 4-door Saloon, 3 and 5-door Hatchback, 5-door Estate, and 2- door Pick-up body styles. Each body is of all-steel welded energyabsorbing monocoque construction, with a sep ...