Charge air temperature sensor - removal and refitting
Removal
1 The charge air temperature sensor is only used on KE-Jetronic systems and is located in the air inlet duct (see illustration).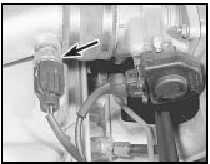 17.1 Charge air temperature sensor location (arrowed)
2 Disconnect the battery negative lead.
3 Disconnect the wiring multi-plug and unscrew the sensor from its location.
Refitting
4 Refitting is the reversal of removal.
See also:
Loudspeakers - removal and refitting
Facia mounted loudspeaker Removal 1 Carefully prise up the speaker grille using a small screwdriver. Lift it from the facia. 2 Extract the speaker mounting screws which are now exposed. 3 Lift t ...
Piston/connecting rod assemblies - removal and refitting
Note: A piston ring compressor tool will be required for this operation. Removal 1 Remove the cylinder head and the sump as described in Sections 4 and 5 respectively. Do not remove the oil pick- ...
Power steering pump - removal and refitting
Note: New power steering fluid hose O-rings will be required when refitting. All engines except 1.8 litre (R6A) CVH and 2.0 litre DOHC 1 Place a suitable container under the power steering pump, ...