Thermo-time switch - removal and refitting
Removal
1 Disconnect the battery negative lead.
2 Drain the cooling system as described in Chapter 1.
3 Raise the front of the car and support it on axle stands (see "Jacking and Vehicle Support").
4 Disconnect the wiring multi-plug from the thermo-time switch located on the inlet manifold intermediate flange and accessible from under the car (see illustration).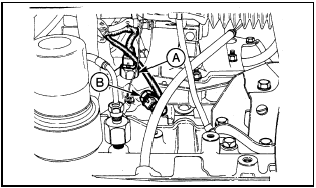 18.4 Thermo-time switch (A) and temperature sensor (B) on the KE-Jetronic system (viewed from under the car)
5 Unscrew the unit and remove it from its location.
Refitting
6 Refitting is a reversal of removal. Refill the cooling system as described in Chapter 1.
See also:
Type approvals
FCC/INDUSTRY CANADA NOTICE This device complies with Part 15 of the FCC Rules. Operation is subject to the following two conditions: (1) this device may not cause harmful interference, and (2) t ...
Interior trim panels - removal and refitting
Rear quarter trim panel Removal 1 Unbolt the seat belt from its floor mounting. 2 Pass the belt buckle slide through the panel aperture. 3 Pull the seat cushion and backrest forward. 4 Extract t ...
Disc pads - inspection and renewal
Caution: Refer to the precautions in Section 1. Front disc pads 1 The disc pad friction material can be inspected for wear without removing the roadwheels. Working beneath the vehicle, insert a ...