Exhaust system check (Every 12 000 miles or 12 months)
With the vehicle raised on a hoist or supported on axle stands (see "Jacking and Vehicle Support"), check the exhaust system for signs of leaks, corrosion or damage and check the rubber mountings for condition and security (see illustration). Where damage or corrosion are evident, renew the system complete or in sections, as applicable, using the information given in Chapter 4, Part E.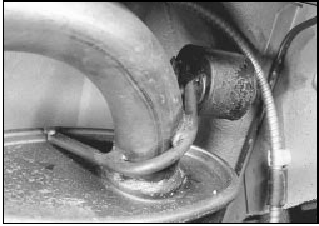 22.1 Exhaust silencer mounting
See also:
Conversion factors
Length (distance) Inches (in) x 25.4 = Millimetres (mm) x 0.0394 = Inches (in) Feet (ft) x 0.305 = Metres (m) x 3.281 = Feet (ft) Miles x 1.609 = Kilometres (km) x 0.621 = Miles Volume (capacity) ...
Ignition system component check (Every 6000 miles or 6 months)
1 Where applicable, remove the distributor cap and thoroughly clean it inside and out with a dry lint-free cloth. Examine the four HT lead segments inside the cap. If the segments appear badly bur ...
Minor body damage - repair
Note: For more detailed information about bodywork repair, Haynes Publishing produce a book by Lindsay Porter called "The Car Bodywork Repair Manual". This incorporates information on such aspects ...