Exhaust system check (Every 12 000 miles or 12 months)
With the vehicle raised on a hoist or supported on axle stands (see "Jacking and Vehicle Support"), check the exhaust system for signs of leaks, corrosion or damage and check the rubber mountings for condition and security (see illustration). Where damage or corrosion are evident, renew the system complete or in sections, as applicable, using the information given in Chapter 4, Part E.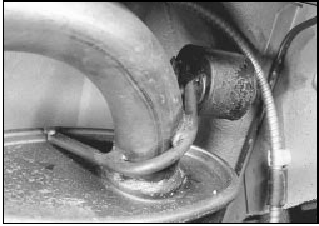 22.1 Exhaust silencer mounting
See also:
Passenger side cargo compartment
Your vehicle is equipped with a passenger side cargo compartment located in the right rear trim panel which is used to store small items and may have the Easy Fuel™ white plastic funnel attached on ...
Fuel quality - Petrol
Note: We recommend that you use only high quality fuel without additives or other engine treatments. CAUTION: Do not use leaded petrol or petrol with additives containing other metallic compound ...
Manifold Absolute Pressure (MAP) sensor - removal and refitting
Removal 1 Disconnect the battery negative lead. 2 Disconnect the sensor wiring plug. Do not pull on the wiring. 3 Disconnect the vacuum hose from the sensor. 4 Remove the two securing screws and ...