Exhaust system check (Every 12 000 miles or 12 months)
With the vehicle raised on a hoist or supported on axle stands (see "Jacking and Vehicle Support"), check the exhaust system for signs of leaks, corrosion or damage and check the rubber mountings for condition and security (see illustration). Where damage or corrosion are evident, renew the system complete or in sections, as applicable, using the information given in Chapter 4, Part E.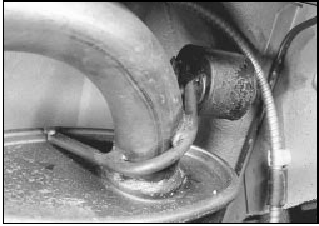 22.1 Exhaust silencer mounting
See also:
Exhaust manifold - removal and refitting
2.0 litre SOHC models 1 Refer to Chapter 4 Part A, Section 26, but note the following points. 2 Ignore the references to removal and refitting of the air cleaner and hot air pick-up pipe, and not ...
Fuel pump - removal and refitting
Note: Refer to the precautions at the end of Section 1 before proceeding. Removal 1 The fuel pump is bolted to the underside of the car just to the rear of the fuel tank. For access raise and sup ...
Facia - removal and refitting
Pre-1986 models Removal 1 Disconnect the battery negative lead. 2 Remove the under-dash cover panels. 3 Refer to Chapter 10 and remove the steering column assembly. 4 Refer to Chapter 12 and rem ...