Exhaust system check (Every 12 000 miles or 12 months)
With the vehicle raised on a hoist or supported on axle stands (see "Jacking and Vehicle Support"), check the exhaust system for signs of leaks, corrosion or damage and check the rubber mountings for condition and security (see illustration). Where damage or corrosion are evident, renew the system complete or in sections, as applicable, using the information given in Chapter 4, Part E.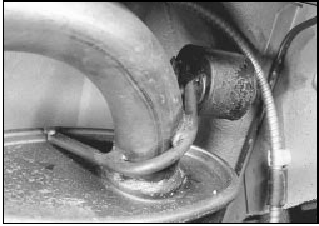 22.1 Exhaust silencer mounting
See also:
Distributor components (CVH models) - removal and refitting
1 The distributor fitted to the CVH engine is unlike any conventional distributor, in that it has no main body and no adjustments are possible. The distributor is used purely to distribute HT volt ...
Changing the wiper blades
Windscreen wiper blades 1. Press the locking button. 2. Remove the wiper blade. Note: Make sure that the wiper blade locks into place. 3. Install in the reverse order. Rear window wiper blade ...
Handbrake cable - adjustment
Note: Where fitted, the adjuster locking pin must be renewed on completion of adjustment. Conventional braking system (except P100 models) 1 The handbrake cable is normally self-adjusting in use ...