Idle speed compensator - removal and refitting
Removal
1 The idle speed compensator is only fitted to K-Jetronic systems from 1986 onwards and is located in the centre of the engine compartment bulkhead (see illustration).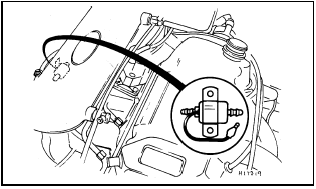 19.1 K-Jetronic system idle speed compensator location
2 Disconnect the battery negative lead.
3 Disconnect the electrical lead, undo the two screws and withdraw the unit. Detach the air hoses from each end and remove the compensator.
Refitting
4 Refitting is a reversal of removal. The air hoses can be connected to either end and the arrows on the unit can be ignored.
See also:
Fuel filler flap - removal and refitting
Removal 1 Open the filler flap and the tailgate or boot lid, as applicable. 2 Remove the fuel filler cap and then remove the screw securing the filler housing to the fuel tank neck (see illustrat ...
Initial start-up after overhaul or major repair
1 Make a final check to ensure that everything has been reconnected to the engine and that no rags or tools have been left in the engine bay. 2 Check that oil and coolant levels are correct. 3 S ...
Transmission fluid
Checking automatic transmission fluid Refer to your scheduled maintenance guide for scheduled intervals for fluid checks and changes. Your transaxle does not consume fluid. However, the fluid lev ...