Idle speed compensator - removal and refitting
Removal
1 The idle speed compensator is only fitted to K-Jetronic systems from 1986 onwards and is located in the centre of the engine compartment bulkhead (see illustration).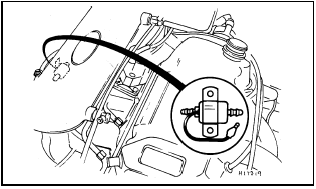 19.1 K-Jetronic system idle speed compensator location
2 Disconnect the battery negative lead.
3 Disconnect the electrical lead, undo the two screws and withdraw the unit. Detach the air hoses from each end and remove the compensator.
Refitting
4 Refitting is a reversal of removal. The air hoses can be connected to either end and the arrows on the unit can be ignored.
See also:
Coolant renewal (Every 24 000 miles or 2 Years)
Cooling system draining 1 It is preferable to drain the system when the coolant is cold. If it must be drained when hot, release the pressure cap on the thermostat housing (or expansion tank on la ...
Four Wheel Drive (4WD) System (if equipped)
WARNING: For important information regarding safe operation of this type of vehicle, see Preparing to drive your vehicle in this chapter. Your vehicle is equipped with an intelligent 4WD System th ...
Waveband button
Press the RADIO button to select from the wavebands available. The selector can also be used to return to radio reception when you have been listening to another source. Alternatively, press the ...