Idle speed compensator - removal and refitting
Removal
1 The idle speed compensator is only fitted to K-Jetronic systems from 1986 onwards and is located in the centre of the engine compartment bulkhead (see illustration).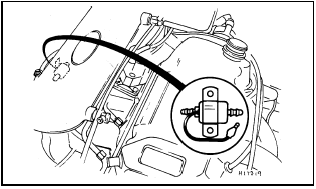 19.1 K-Jetronic system idle speed compensator location
2 Disconnect the battery negative lead.
3 Disconnect the electrical lead, undo the two screws and withdraw the unit. Detach the air hoses from each end and remove the compensator.
Refitting
4 Refitting is a reversal of removal. The air hoses can be connected to either end and the arrows on the unit can be ignored.
See also:
Rear anti-roll bar (Saloon and Estate models) - removal and refitting
Removal 1 Slacken the left-hand roadwheel bolts, raise and support the rear of the car on stands (see "Jacking and Vehicle Support"). Remove the roadwheel. 2 Lever the shackles from the right and ...
Front suspension strut - removal, overhaul and refitting
Removal 1 Slacken the roadwheel bolts, raise the front of the vehicle and support it securely on stands (see "Jacking and Vehicle Support"), then remove the roadwheel. 2 Support the underside of ...
General information
OHV engines The 1.1 litre and 1.3 litre OHV engines are of four-cylinder, in-line overhead valve type (hence OHV), mounted transversely together with the transmission, at the front of the car. Th ...