Air Charge Temperature (ACT) sensor - removal and refitting
Removal
1 The ACT sensor is screwed into the CFI unit.
2 Disconnect the battery negative lead.
3 Remove the air cleaner assembly.
4 Disconnect the ACT sensor wiring plug (see illustration).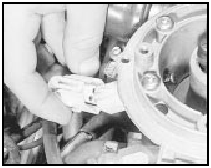 13.4 Disconnecting the ACT sensor wiring plug - 1.4 CFI engine
5 Unscrew the sensor from the CFI unit.
Refitting
6 Refitting is a reversal of removal.
See also:
Steering wheel lock
WARNING: Always check that the steering is unlocked before attempting to move your vehicle. Vehicles without keyless starting To activate the steering wheel lock; 1. Remove the key from the igni ...
Oil pump - removal and refitting
Note: New oil pump and oil pick-up tube gaskets should be used when refitting. Removal 1 With the engine removed, proceed as follows. 2 Remove the timing belt, crankshaft sprocket and thrustwash ...
Engine oil and filter recommendations
Look for this certification trademark. Use SAE 5W-20 engine oil Only use oils certified for gasoline engines by the American Petroleum Institute (API). An oil with this trademark symbol conforms ...