Air Charge Temperature (ACT) sensor - removal and refitting
Removal
1 The ACT sensor is screwed into the CFI unit.
2 Disconnect the battery negative lead.
3 Remove the air cleaner assembly.
4 Disconnect the ACT sensor wiring plug (see illustration).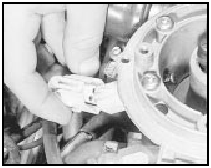 13.4 Disconnecting the ACT sensor wiring plug - 1.4 CFI engine
5 Unscrew the sensor from the CFI unit.
Refitting
6 Refitting is a reversal of removal.
See also:
Glove box
Glove box Card holder A Coin holders B Pen or pencil clip C ...
Cab air vent panel (P100 models) - renewal
1 Remove the cab interior side trim panel. 2 Working inside the cab, remove the two rubber grommets from the rear pillar, then unscrew the two now exposed nuts, and withdraw the air vent panel. 3 ...
Pistons and connecting rods - examination and renovation
1.8 litre (R2A type) 1 Examine the pistons for ovality, scoring, and scratches. Check the connecting rods for wear or damage. 2 The gudgeon pins are an interference fit in the connecting rods, an ...