Air Charge Temperature (ACT) sensor - removal and refitting
Removal
1 The ACT sensor is screwed into the CFI unit.
2 Disconnect the battery negative lead.
3 Remove the air cleaner assembly.
4 Disconnect the ACT sensor wiring plug (see illustration).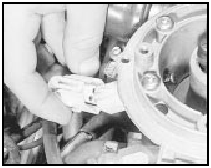 13.4 Disconnecting the ACT sensor wiring plug - 1.4 CFI engine
5 Unscrew the sensor from the CFI unit.
Refitting
6 Refitting is a reversal of removal.
See also:
Bumper components - removal and refitting
Bumper overriders Removal 1 On pre-1986 models the overrider is held to the bumper by a clamp screw. Find this screw on the underside of the bumper and release it - the overrider can then be with ...
Engine electrical systems
General information and precautions General information The electrical system is of the 12 volt negative earth type, and consists of a 12 volt battery, alternator with integral voltage regulator, ...
Auxiliary air device - removal and refitting
K-Jetronic system Removal 1 Disconnect the battery earth lead. 2 Disconnect the wiring multi-plug and the two air hoses from the device which is located beneath the cold start valve (see illustra ...