Rear brake shoe lining check (Every 6000 miles or 6 months)
1 Due to the fact that the rear brake drums are combined with the hubs, which makes removal of the drums more complicated than is the case with detachable drums, inspection of the shoe linings can be carried out at the specified intervals by prising out the small inspection plug from the brake backplate and observing the linings through the hole using a mirror (see illustrations).

17.1a Brake shoe viewing hole location (arrowed) in backplate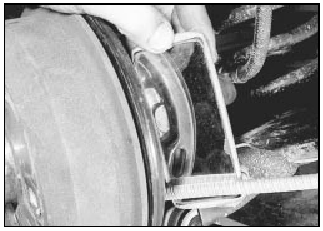 17.1b Checking rear brake lining wear with a mirror
2 A minimum thickness of friction material must always be observed on the shoes. If it is worn down to this level, renew the shoes.
3 Do not attempt to re-line shoes yourself but always obtain factory re-lined shoes.
4 Renew the shoes in an axle set (four shoes), even if only one is worn to the minimum.
See also:
Crankshaft rear oil seal - renewal
1 Remove the flywheel/driveplate. 2 Prise out the oil seal. If necessary, drill the outer face of the oil seal and use self-tapping screws and a pair of grips to withdraw the seal (see illustratio ...
Distributor - removal and refitting
Contact breaker ignition system OHV engines Removal 1 Disconnect the leads from the spark plugs, spring back the retaining clips and lift off the distributor cap. 2 Disconnect the LT lead at the ...
Accelerator pedal - removal and refitting
Removal 1 The pedal can be removed once the throttle cable has been disconnected from it as described in Section 7. 2 Undo the two pedal support bracket retaining bolts and remove the pedal. Ref ...