Rear brake shoe lining check (Every 6000 miles or 6 months)
1 Due to the fact that the rear brake drums are combined with the hubs, which makes removal of the drums more complicated than is the case with detachable drums, inspection of the shoe linings can be carried out at the specified intervals by prising out the small inspection plug from the brake backplate and observing the linings through the hole using a mirror (see illustrations).

17.1a Brake shoe viewing hole location (arrowed) in backplate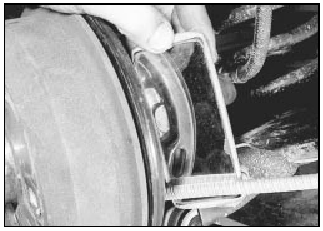 17.1b Checking rear brake lining wear with a mirror
2 A minimum thickness of friction material must always be observed on the shoes. If it is worn down to this level, renew the shoes.
3 Do not attempt to re-line shoes yourself but always obtain factory re-lined shoes.
4 Renew the shoes in an axle set (four shoes), even if only one is worn to the minimum.
See also:
Pistons and connecting rods - removal and refitting
Removal 1 Remove the sump and the cylinder head. 2 Check the big-end bearing caps for identification marks and if necessary use a centre-punch to identify the caps and corresponding connecting ro ...
Headlamps - alignment
1 It is recommended that the headlamp alignment is carried out by a Ford dealer using specialist beam setting equipment. However, in an emergency the following procedure will provide an acceptable ...
Engine - complete dismantling
OHV engines 1 The need for dismantling will have been dictated by wear or noise in most cases. Although there is no reason why only partial dismantling cannot be carried out to renew such items a ...