Rear brake shoe lining check (Every 6000 miles or 6 months)
1 Due to the fact that the rear brake drums are combined with the hubs, which makes removal of the drums more complicated than is the case with detachable drums, inspection of the shoe linings can be carried out at the specified intervals by prising out the small inspection plug from the brake backplate and observing the linings through the hole using a mirror (see illustrations).

17.1a Brake shoe viewing hole location (arrowed) in backplate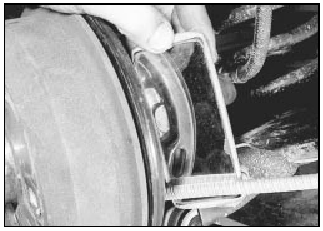 17.1b Checking rear brake lining wear with a mirror
2 A minimum thickness of friction material must always be observed on the shoes. If it is worn down to this level, renew the shoes.
3 Do not attempt to re-line shoes yourself but always obtain factory re-lined shoes.
4 Renew the shoes in an axle set (four shoes), even if only one is worn to the minimum.
See also:
Connecting an external device - Vehicles With: Bluetooth
Connecting a Bluetooth audio device CAUTION: As various standards exist, manufacturers are able to implement a variety of profiles in their Bluetooth devices. Because of this, an incompatibilit ...
Washer nozzles - removal and refitting
Windscreen and rear window washers 1 To remove a nozzle, carefully prise it from its location using a thin-bladed screwdriver. Disconnect the washer hose and withdraw the nozzle. 2 To refit, rec ...
General information
General points on starting If the battery has been disconnected the vehicle may exhibit some unusual driving characteristics for approx. 8 kilometres (5 miles) after reconnecting the battery. Thi ...