Rear brake shoe lining check (Every 6000 miles or 6 months)
1 Due to the fact that the rear brake drums are combined with the hubs, which makes removal of the drums more complicated than is the case with detachable drums, inspection of the shoe linings can be carried out at the specified intervals by prising out the small inspection plug from the brake backplate and observing the linings through the hole using a mirror (see illustrations).

17.1a Brake shoe viewing hole location (arrowed) in backplate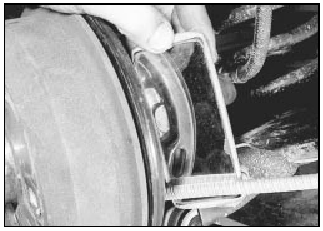 17.1b Checking rear brake lining wear with a mirror
2 A minimum thickness of friction material must always be observed on the shoes. If it is worn down to this level, renew the shoes.
3 Do not attempt to re-line shoes yourself but always obtain factory re-lined shoes.
4 Renew the shoes in an axle set (four shoes), even if only one is worn to the minimum.
See also:
Fuel injectors and injector delivery pipes - removal and refitting
Note: Refer to the precautions at the end of Section 1 before proceeding. It is important to note that each injection supply pipe connection in the distributor head has a screw adjacent to it. The ...
Sump - removal and refitting
Warning: A new sump gasket will be required on refitting, and suitable sealing compound will be required to coat the sump and cylinder block mating faces. Shims may be required when mating the e ...
Buying Spare Parts
Spare parts are available from many sources, including maker's appointed garages, accessory shops, and motor factors. To be sure of obtaining the correct parts, it will sometimes be necessary to q ...