Rear brake shoe lining check (Every 6000 miles or 6 months)
1 Due to the fact that the rear brake drums are combined with the hubs, which makes removal of the drums more complicated than is the case with detachable drums, inspection of the shoe linings can be carried out at the specified intervals by prising out the small inspection plug from the brake backplate and observing the linings through the hole using a mirror (see illustrations).

17.1a Brake shoe viewing hole location (arrowed) in backplate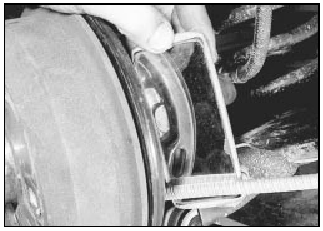 17.1b Checking rear brake lining wear with a mirror
2 A minimum thickness of friction material must always be observed on the shoes. If it is worn down to this level, renew the shoes.
3 Do not attempt to re-line shoes yourself but always obtain factory re-lined shoes.
4 Renew the shoes in an axle set (four shoes), even if only one is worn to the minimum.
See also:
Ford SUV's manuals
Henry Ford started the company in 1902 with $28,000 in cash from twelve investors, among which were John and Horace Dodge, who would later found the Dodge Brothers Motor Vehicle Company. He was 40 y ...
Audio unit commands
CD Player You can control playback directly by voice control. Overview The overview below shows the available voice commands. The following lists will give further information about the complet ...
Air Charge Temperature (ACT) sensor - removal and refitting
Removal 1 The ACT sensor is screwed into the CFI unit. 2 Disconnect the battery negative lead. 3 Remove the air cleaner assembly. 4 Disconnect the ACT sensor wiring plug (see illustration). 1 ...