Manifold Absolute Pressure (MAP) sensor - removal and refitting
Removal
1 Disconnect the battery negative lead.
2 Disconnect the sensor wiring plug (see illustration). Do not pull on the wiring.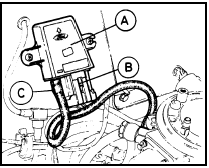 16.2 Manifold absolute pressure (MAP) sensor - 1.4 CFI engine
A MAP sensor
B Wiring plug
C Vacuum hose
3 Disconnect the vacuum pipe from the sensor.
4 Remove the two securing screws, and withdraw the sensor from the engine compartment bulkhead.
Refitting
5 Refitting is a reversal of removal.
See also:
Brake hydraulic system (ABS) - bleeding
Caution: The rear brake hydraulic circuit may be under considerable pressure, take care not to allow hydraulic fluid to spray into the face or eyes. Refer to the precautions in Section 1. 1 Keep ...
Door lock - removal and refitting
Models up to 1990 1 Remove the door inner trim panel. 2 Where necessary for improved access, peel back the waterproof plastic sheet from the door. 3 Withdraw the window channel extension through ...
Wheel sensor (ABS) - removal and refitting
Note: A new O-ring must be used when refitting a sensor. Front wheel sensor 1 Apply the handbrake, loosen the relevant front roadwheel nuts, then jack up the front of the vehicle and support on a ...