Manifold Absolute Pressure (MAP) sensor - removal and refitting
Removal
1 Disconnect the battery negative lead.
2 Disconnect the sensor wiring plug (see illustration). Do not pull on the wiring.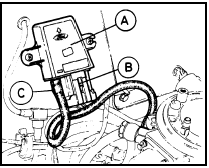 16.2 Manifold absolute pressure (MAP) sensor - 1.4 CFI engine
A MAP sensor
B Wiring plug
C Vacuum hose
3 Disconnect the vacuum pipe from the sensor.
4 Remove the two securing screws, and withdraw the sensor from the engine compartment bulkhead.
Refitting
5 Refitting is a reversal of removal.
See also:
Fuel pump - removal and refitting
The fuel pump is integral with the fuel level sender unit in the fuel tank. Removal and refitting are as described in Part C of this Chapter for models with the CFI system. ...
Body exterior fittings - removal and refitting
Spoilers and wheel arch deflectors Removal 1 The spoilers and wheel arch deflectors fitted to XR3, XR3i, Cabriolet and RS Turbo models are secured by screws, rivets and clips, or a combination o ...
Throttle cable - adjustment, removal and refitting
Adjustment The procedure is the same as described in Part A of this Chapter for carburettor engines, except that the cable adjuster is situated in a bracket alongside the throttle housing. Remova ...