Manifold Absolute Pressure (MAP) sensor - removal and refitting
Removal
1 Disconnect the battery negative lead.
2 Disconnect the sensor wiring plug (see illustration). Do not pull on the wiring.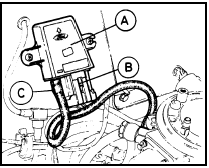 16.2 Manifold absolute pressure (MAP) sensor - 1.4 CFI engine
A MAP sensor
B Wiring plug
C Vacuum hose
3 Disconnect the vacuum pipe from the sensor.
4 Remove the two securing screws, and withdraw the sensor from the engine compartment bulkhead.
Refitting
5 Refitting is a reversal of removal.
See also:
Front wheel bearings - renewal
1 Remove the hub carrier. 2 Reverse the roadwheel nuts and screw them fully onto the studs to protect the threads, then mount the hub carrier assembly in a vice as shown (see illustration). 6.2 ...
Flywheel/driveplate - removal, inspection and refitting
Note: New flywheel securing bolts must be used on refitting. 1.8 litre (R2A type) 1 Refer to Section 26, Chapter 2, Part A but also note the following points. 2 The flywheel/driveplate securing b ...
Timing chain and sprockets - removal and refitting
Note: Refer to the warning at the beginning of Section 5 before proceeding. A suitable puller will be required to remove the crankshaft pulley. A new crankshaft pulley bolt, a new timing chain ten ...