Manifold Absolute Pressure (MAP) sensor - removal and refitting
Removal
1 Disconnect the battery negative lead.
2 Disconnect the sensor wiring plug (see illustration). Do not pull on the wiring.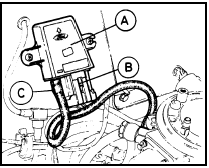 16.2 Manifold absolute pressure (MAP) sensor - 1.4 CFI engine
A MAP sensor
B Wiring plug
C Vacuum hose
3 Disconnect the vacuum pipe from the sensor.
4 Remove the two securing screws, and withdraw the sensor from the engine compartment bulkhead.
Refitting
5 Refitting is a reversal of removal.
See also:
Spark plugs and HT leads - removal, inspection and refitting
Note: The correct functioning of the spark plugs is vital for the correct running and efficiency of the engine. It is essential that the plugs fitted are appropriate for the engine, and the suitabl ...
Cooling, heating and ventilation systems
The cooling system is of the pressurised pump-assisted thermo-syphon type. The system consists of the radiator, water pump, thermostat, electric cooling fan, expansion tank and associated hoses. ...
Rear shock absorber (Saloon and Estate models) - removal, testing and refitting
Removal 1 Slacken the roadwheel bolts, raise the rear of the vehicle, support it on stands (see "Jacking and Vehicle Support") and remove the roadwheel. 2 Support the suspension lower arm with a ...