Idle Speed Control Valve (ISCV) - removal, cleaning and refitting
Removal
1 Disconnect the battery negative lead.
2 Disconnect the valve wiring plug (see illustration).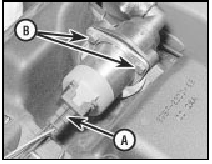 12.2 Idle speed control valve - 1.6 EFI engine
A Wiring plug B Securing bolts
3 Unscrew the two securing bolts, and withdraw the valve from the air cleaner housing.
Cleaning
4 Remove the valve as described earlier in this Section.
5 Immerse the valve in a container of clean petrol and allow it to soak for approximately three minutes.
6 Use a clean paint brush to clean the bore, slots and piston of the valve.
7 Using a small screwdriver, carefully move the piston up and down in the bore (do not use the slots to do this), then rinse the valve with petrol and dry it, preferably using compressed air (see illustration).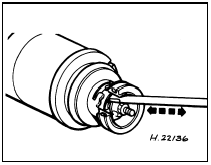 12.7 Using a screwdriver to move the idle speed control valve piston - 1.6 EFI engine
8 Refit the valve as described in the following paragraphs.
Refitting
9 Refitting is a reversal of removal, ensuring that the mating faces of the valve and air cleaner are clean.
10 On completion, start the engine and check that the idle speed is stable, and that there are no air leaks. Warm the engine up to normal operating temperature, then switch on all available electrical loads and check that the idle speed is maintained.
See also:
Child seats
WARNINGS: Secure children that are less than 150 centimetres tall or less than 12 years of age in a suitable, approved child restraint, in the rear seat. Original text according to ECE R94.0 ...
CFI unit (1.6 and 1.8 litre (R6A type) CVH) - removal and refitting
Caution: Refer to the precautions in Section 1 before proceeding. A new gasket must be used on refitting. Removal 1 Disconnect the battery negative lead. 2 Remove the air cleaner assembly. 3 De ...
Final drive oil level check (Every 12 000 miles (20 000 km) or 12 months)
1 Check the final drive oil level as follows. 2 Position the vehicle over a pit, or raise it at front and rear on ramps or axle stands. The vehicle must be level. 3 Wipe clean around the final dri ...