Idle Speed Control Valve (ISCV) - removal, cleaning and refitting
Removal
1 Disconnect the battery negative lead.
2 Disconnect the valve wiring plug (see illustration).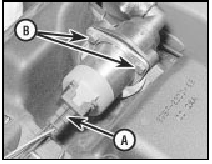 12.2 Idle speed control valve - 1.6 EFI engine
A Wiring plug B Securing bolts
3 Unscrew the two securing bolts, and withdraw the valve from the air cleaner housing.
Cleaning
4 Remove the valve as described earlier in this Section.
5 Immerse the valve in a container of clean petrol and allow it to soak for approximately three minutes.
6 Use a clean paint brush to clean the bore, slots and piston of the valve.
7 Using a small screwdriver, carefully move the piston up and down in the bore (do not use the slots to do this), then rinse the valve with petrol and dry it, preferably using compressed air (see illustration).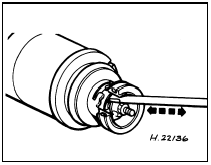 12.7 Using a screwdriver to move the idle speed control valve piston - 1.6 EFI engine
8 Refit the valve as described in the following paragraphs.
Refitting
9 Refitting is a reversal of removal, ensuring that the mating faces of the valve and air cleaner are clean.
10 On completion, start the engine and check that the idle speed is stable, and that there are no air leaks. Warm the engine up to normal operating temperature, then switch on all available electrical loads and check that the idle speed is maintained.
See also:
Keyless entry
General information WARNING: The keyless entry system may not function if the key is close to metal objects or electronic devices such as mobile phones. Note: If the door handles are pulled rep ...
Technical specifications
Vehicle fluids * Providing it meets the specification defined by WSS-M2C913-C, you can also use Ford Engine Oil or an alternative engine oil. Topping up the oil: If you are unable to find an oi ...
Mondeo Safety Systems
The new Ford Mondeo features an impressive no-compromise array of active and passive safety technologies. The basic foundation for these features is the car's ultra-stiff body structure, which red ...