Idle Speed Control Valve (ISCV) - removal, cleaning and refitting
Removal
1 Disconnect the battery negative lead.
2 Disconnect the valve wiring plug (see illustration).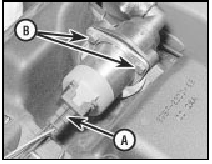 12.2 Idle speed control valve - 1.6 EFI engine
A Wiring plug B Securing bolts
3 Unscrew the two securing bolts, and withdraw the valve from the air cleaner housing.
Cleaning
4 Remove the valve as described earlier in this Section.
5 Immerse the valve in a container of clean petrol and allow it to soak for approximately three minutes.
6 Use a clean paint brush to clean the bore, slots and piston of the valve.
7 Using a small screwdriver, carefully move the piston up and down in the bore (do not use the slots to do this), then rinse the valve with petrol and dry it, preferably using compressed air (see illustration).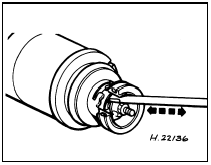 12.7 Using a screwdriver to move the idle speed control valve piston - 1.6 EFI engine
8 Refit the valve as described in the following paragraphs.
Refitting
9 Refitting is a reversal of removal, ensuring that the mating faces of the valve and air cleaner are clean.
10 On completion, start the engine and check that the idle speed is stable, and that there are no air leaks. Warm the engine up to normal operating temperature, then switch on all available electrical loads and check that the idle speed is maintained.
See also:
Audible warnings and indicators
Automatic transmission If position P is not selected, a warning chime will sound when the driver's door is opened. Frost WARNING: Even if the temperature rises to above +4ºC there is no gu ...
Alternator drivebelt check (Every 6000 miles or 6 months)
1 A conventional vee drivebelt is used to drive both the alternators and water pump pulleys on OHV and HCS engines, and the alternator pulley only on CVH engines, power being transmitted via a pul ...
Mid-size SUV information
If a dog is man's best friend, then it's conceivable the sport/utility vehicle is man's best tool. And when we say "sport/utility vehicle," we're talking a truck-based, ladder-frame SUV here ...