Idle Speed Control Valve (ISCV) - removal, cleaning and refitting
Removal
1 Disconnect the battery negative lead.
2 Disconnect the valve wiring plug (see illustration).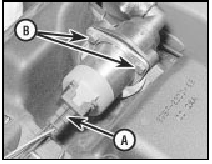 12.2 Idle speed control valve - 1.6 EFI engine
A Wiring plug B Securing bolts
3 Unscrew the two securing bolts, and withdraw the valve from the air cleaner housing.
Cleaning
4 Remove the valve as described earlier in this Section.
5 Immerse the valve in a container of clean petrol and allow it to soak for approximately three minutes.
6 Use a clean paint brush to clean the bore, slots and piston of the valve.
7 Using a small screwdriver, carefully move the piston up and down in the bore (do not use the slots to do this), then rinse the valve with petrol and dry it, preferably using compressed air (see illustration).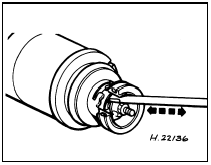 12.7 Using a screwdriver to move the idle speed control valve piston - 1.6 EFI engine
8 Refit the valve as described in the following paragraphs.
Refitting
9 Refitting is a reversal of removal, ensuring that the mating faces of the valve and air cleaner are clean.
10 On completion, start the engine and check that the idle speed is stable, and that there are no air leaks. Warm the engine up to normal operating temperature, then switch on all available electrical loads and check that the idle speed is maintained.
See also:
Door window regulator - removal and refitting
Removal 1 Remove the door inner trim panel. 2 Where necessary for improved access, peel back the waterproof plastic sheet from the door. 3 Lower the window until the lower support channel is vis ...
2.5L I4 engine
1. Engine coolant reservoir 2. Engine oil filler cap 3. Automatic transmission dipstick (if equipped) 4. Brake/Clutch fluid reservoir 5. Air filter assembly 6. Power distribution box 7. Batter ...
Pistons and connecting rods - examination and renovation
1.8 litre (R2A type) 1 Examine the pistons for ovality, scoring, and scratches. Check the connecting rods for wear or damage. 2 The gudgeon pins are an interference fit in the connecting rods, an ...