Handbrake cables - renewal
1 Chock the front wheels, then fully release the handbrake.
2 Raise and support the vehicle at the rear with axle stands (see "Jacking and Vehicle Support").
Primary cable
3 Extract the spring clip and clevis pin and disconnect the primary cable from the equaliser (see illustrations).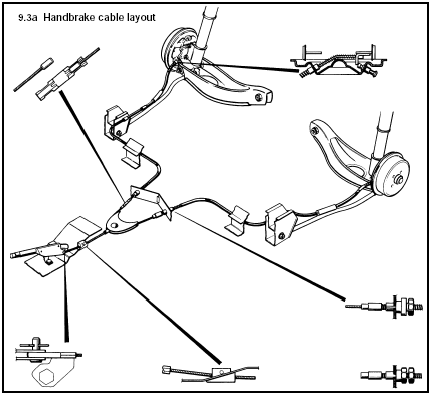 9.3a Handbrake cable layout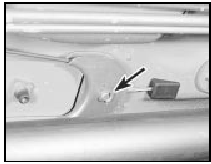 9.3b Primary cable-to-equaliser clevis pin and spring clip (arrowed)
4 Working inside the vehicle, disconnect the cable from the hand-brake control lever, again by removal of clip and pin. Drift out the cable guide to the rear and withdraw the cable through the floorpan.
5 Refitting is a reversal of removal. Adjust the handbrake, if necessary, as described in Section 8.
Secondary cable
6 Using the procedure described in Section 8, slacken the cable adjusting nut so that the abutment sleeve can be disengaged from its body guide (see illustration).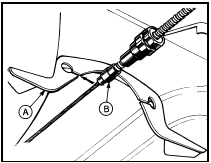 9.6 Removing handbrake cable abutment sleeve from the body guide
A Body guide B Secondary cable
7 Release the cable connector from its body guide by extracting the spring clip and passing the inner cable through the slit in the guide (see illustration).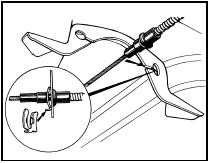 9.7 Handbrake cable connector spring clip removal
8 Now disconnect the cable from its body guide on the right-hand side of the vehicle.
9 Separate the cable assembly/equaliser from the primary cable by extracting the spring clip and clevis pin.
10 Release the cable from the body guides.
11 Remove the rear roadwheels and the brake drums.
12 Release the shoe hold-down spring so that the shoe can be swivelled and the handbrake lever unclipped from the relay lever.
13 Remove the cable ends through the brake backplate and withdraw the complete cable assembly from the vehicle.
14 Refitting is a reversal of removal. Grease the cable groove in the equaliser and adjust the handbrake, as described in Section 8.
See also:
Brake hydraulic system (conventional braking system) - bleeding
Caution: Refer to the precautions in Section 1. General 1 If any of the hydraulic components in the braking system have been removed or disconnected, or if the fluid level in the reservoir has b ...
Major operations requiring engine removal
The following work can only be carried out after removal of the engine from the car: a) Crankshaft main bearings - renewal . b) Crankshaft - removal and refitting. c) Flywheel - removal and refitt ...
Front anti-roll bar - removal and refitting
Removal 1 To improve access, raise the front of the vehicle on ramps. Do not jack the vehicle up at this stage. Apply the handbrake. 2 Where applicable bend back the locktabs, then unscrew the tw ...