Brake pedal - removal, refitting and adjustment
Removal
1 Working within the vehicle, remove the under-dash cover panel.
2 Extract the spring clip which connects the pushrod to the arm of the brake pedal.
3 Extract the circlip from the end of the pedal pivot shaft and withdraw the shaft with clutch pedal and the flat and wave washers (see illustration).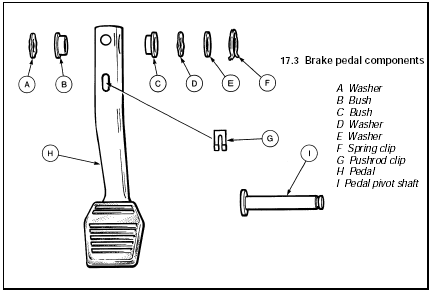 17.3 Brake pedal components
A Washer
B Bush
C Bush
D Washer
E Washer
F Spring clip
G Pushrod clip
H Pedal
I Pedal pivot shaft
4 Renew the bushes as necessary.
Refitting
5 Reassembly and refitting are reversals of removal and dismantling. Apply a little grease to the bushes when installing.
Adjustment
6 Although the braking system may be in satisfactory condition generally, it is possible that some drivers may feel that the brake pedal travel is excessive. The travel can be reduced in the following way if the upper surface of the pedal pad is less than 200.0 mm above the metal surface of the floor.
7 Remove the brake pedal as described above.
8 Remove the white plastic bush (see illustration).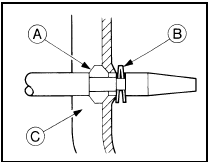 17.8 Sectional view of brake pedal and pushrod
A White plastic
bush
B Pushrod clip
C Pedal arm
9 Fit a new bush which is red in colour and will increase the pedal height. Once this type of bush has been fitted it will not be possible to refit the anti-rattle retainer. This does not matter.
10 Adjust the stop-lamp switch (Section 18).
See also:
Exterior lamps - removal and refitting
Headlamp Removal 1 On pre-1986 models, remove the radiator grille as described in Chapter 11. 2 Working in the engine compartment, disconnect the headlamp wiring multi-plug and remove the sidela ...
Steering gear bellows - renewal
1 At the first indication of a split or grease leakage from the bellows, renew them. 2 Loosen off the roadwheel bolts, raise the front of the vehicle and support it on stands (see "Jacking and Veh ...
Steering gear - removal, overhaul and refitting
Removal Note: New tie-rod balljoint split-pins must be used on refitting. 1 Set the front roadwheels in the straightahead position. 2 Raise the front of the vehicle and fit stands (see "Jacking ...