Anti-lock Braking System - description
1 From 1986 onward an anti-lock braking system is available as standard or optional equipment on certain Escort models.
2 The system comprises four main components: two modulators, one for each brake circuit, and two rear axle load apportioning valves, again, one for each brake circuit. Apart from the additional hydraulic piping the remainder of the braking system is the same as for conventional models (see illustration).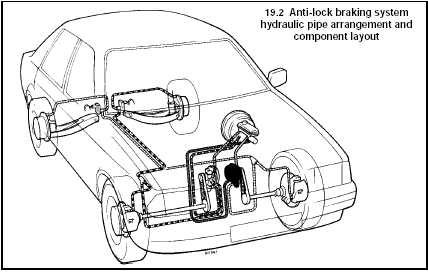 19.2 Anti-lock braking system hydraulic pipe arrangement and component layout
3 The modulators are located in the engine compartment with one mounted on each side of the transmission, directly above the driveshaft inner constant velocity joints. Each modulator contains a shaft which actuates a flywheel by means of a ball and ramp clutch. A rubber toothed belt is used to drive the modulator shaft from the driveshaft inner constant velocity joint.
4 During driving and under normal braking, the modulator shaft and the flywheel rotate together and at the same speed through the engagement of a ball and ramp clutch. In this condition, hydraulic pressure from the master cylinder passes to the modulators and then to each brake in the conventional way. In the event of a front wheel locking the modulator shaft rotation will be less than that of the flywheel and the flywheel will overrun the ball and ramp clutch. This causes the flywheel to slide on the modulator shaft, move inward and operate a lever which in turn opens a dump valve. Hydraulic pressure to the locked brake is released via a de-boost piston allowing the wheel to once again revolve. Fluid passed through the dump valve is returned to the master cylinder reservoir via the modulator return pipes. At the same time hydraulic pressure from the master cylinder causes a pump piston to contact an eccentric cam on the modulator shaft. The flywheel is then decelerated at a controlled rate by the flywheel friction clutch. When the speed of the modulator shaft and flywheel are once again equal the dump valve closes and the cycle repeats. This complete operation takes place many times a second until the vehicle stops or the brakes are released.
5 The load apportioning valves are mounted on the rear crossmember and connected to each rear suspension arm via a linkage. The valves regulate hydraulic pressure to the rear brakes in accordance with vehicle load and attitude in such a way that braking force at the front brakes will always be greater than that at the rear.
6 A belt break warning switch is fitted to the cover which surrounds each modulator drivebelt. The switch contains an arm which is in contact with the drivebelt at all times. If the belt should break, or if the adjustment of the belt is too slack, the arm will move out closing the switch contacts and informing the driver via an instrument panel warning light.