Instrument panel components - removal and refitting
Panel illumination and warning lamp bulbs
Removal
1 Remove the instrument panel as described in Section 9.
2 Turn the bulbholders anti-clockwise and remove them from the rear of the instrument panel (see illustration).

10.2 Instrument panel bulb renewal
3 The bulbs and bulbholders are renewed complete, the bulbs cannot be removed from the holders separately.
Refitting
4 Refit by pushing down and turning clockwise.
Printed circuit
Removal
5 Remove the instrument panel (Section 9).
6 Remove all illumination and warning lamp bulbholders.
7 Undo all the nuts and remove the washers from the printed circuit terminals.
8 Remove the wiring multi-plug retainers and carefully pull the printed circuit off the pins on the rear of the panel.
Refitting
9 Refitting is the reverse sequence to removal.
Speedometer
Removal
10 Remove the instrument panel as described in Section 9.
11 Undo the retaining screws around the edge of the panel at the rear and separate the two panel halves (see illustrations).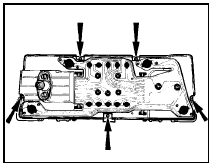 10.11a Instrument panel assembly retaining screws-pre-1986 models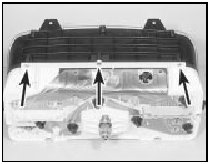 10.11b Instrument panel assembly upper retaining screws - 1986 models onwards
12 Undo the two screws and remove the speedometer (see illustrations).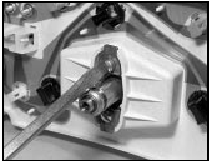 10.12a Extracting speedometer retaining screws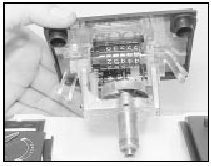 10.12b Removing the speedometer
Refitting 13 Refitting is the reverse sequence to removal.
Tachometer
14 The procedure is the same as for the speedometer except that the unit is secured by three nuts.
Fuel and temperature gauges 15 Proceed as for the speedometer but remove the combined gauge assembly after undoing the four nuts.
See also:
Engine - removal leaving manual gearbox in vehicle
Note: A suitable hoist and lifting tackle will be required for this operation. 1.8 litre (R2A type) 1 Disconnect the battery negative lead. 2 Remove the bonnet. 3 Remove the air cleaner. 4 Disco ...
Fuel and exhaust systems - fuel injection
General information and precautions General information 2.0 litre SOHC models The fuel injection system fitted to these models is of the Bosch L-Jetronic type. The system is under the overall con ...
Loudspeakers - removal and refitting
1 Disconnect the battery earth lead. Facia panel-mounted speakers Upper 2 Prise the speaker grille from its four retaining clips in the facia using a thin-bladed screwdriver. 3 Remove the four s ...