Rear shock absorbers (Van models) - removal, testing and refitting
Removal
1 Raise and support the rear of the vehicle on stands (see "Jacking and Vehicle Support").
Place a jack beneath the rear axle tube and just raise it slightly.
2 Disconnect the shock absorber lower mounting by unscrewing the nut and pivot bolt.
3 Unbolt the top mounting bracket from the body and withdraw the unit (see illustration).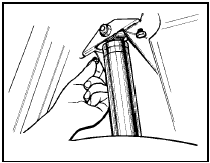 11.3 Removing the rear shock absorber top mounting bracket - Van models
4 Undo the nut and pivot bolt to separate the mounting bracket from the shock absorber.
Testing
5 Proceed as described in Section 10.
Refitting
6 Refitting is a reversal of removal, but if a new unit is being installed, prime it first in a similar way to that described for testing.
See also:
Throttle body - removal and refitting
Note: A tachometer and an exhaust gas analyser will be required to check the idle mixture on completion. A new gasket must be used when refitting the throttle body. 2.0 litre SOHC models 1 Discon ...
Exterior lamp bulbs - renewal
Note: The glass envelopes of the headlamp, auxiliary driving lamp and front foglamp bulbs must not be touched with the fingers. If the glass is accidentally touched, it should be washed with methy ...
Water pump - removal and refitting
OHV engines Note: A new gasket and suitable jointing compound must be used on refitting. Removal 1 Drain the cooling system as described in Chapter 1. 2 Slacken the three water pump pulley reta ...