Rear shock absorbers (Van models) - removal, testing and refitting
Removal
1 Raise and support the rear of the vehicle on stands (see "Jacking and Vehicle Support").
Place a jack beneath the rear axle tube and just raise it slightly.
2 Disconnect the shock absorber lower mounting by unscrewing the nut and pivot bolt.
3 Unbolt the top mounting bracket from the body and withdraw the unit (see illustration).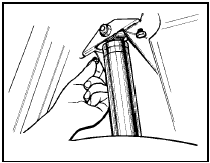 11.3 Removing the rear shock absorber top mounting bracket - Van models
4 Undo the nut and pivot bolt to separate the mounting bracket from the shock absorber.
Testing
5 Proceed as described in Section 10.
Refitting
6 Refitting is a reversal of removal, but if a new unit is being installed, prime it first in a similar way to that described for testing.
See also:
Rear roadspring (Saloon and Estate models) - removal and refitting
Removal 1 Raise the rear of the car and support it on stands (see "Jacking and Vehicle Support"). Remove the roadwheel. 2 Support the suspension lower arm by placing a jack beneath the spring sea ...
Exterior lamp bulbs - renewal
Note: The glass envelopes of the headlamp, auxiliary driving lamp and front foglamp bulbs must not be touched with the fingers. If the glass is accidentally touched, it should be washed with methy ...
Engine - removal leaving manual gearbox in vehicle
Note: A suitable hoist and lifting tackle will be required for this operation. 1.8 litre (R2A type) 1 Disconnect the battery negative lead. 2 Remove the bonnet. 3 Remove the air cleaner. 4 Disco ...