Rear shock absorbers (Van models) - removal, testing and refitting
Removal
1 Raise and support the rear of the vehicle on stands (see "Jacking and Vehicle Support").
Place a jack beneath the rear axle tube and just raise it slightly.
2 Disconnect the shock absorber lower mounting by unscrewing the nut and pivot bolt.
3 Unbolt the top mounting bracket from the body and withdraw the unit (see illustration).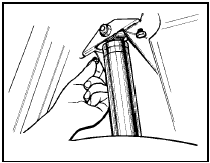 11.3 Removing the rear shock absorber top mounting bracket - Van models
4 Undo the nut and pivot bolt to separate the mounting bracket from the shock absorber.
Testing
5 Proceed as described in Section 10.
Refitting
6 Refitting is a reversal of removal, but if a new unit is being installed, prime it first in a similar way to that described for testing.
See also:
Heating and ventilation system - description
The heater is of the type which utilises waste heat from the engine coolant. The coolant is pumped through the matrix in the heater casing where air, force-fed by a duplex radial fan, disperses th ...
Engine - removal leaving manual gearbox in vehicle
Note: The air conditioning system should always be discharged by a Ford dealer or air conditioning specialist. Note: Refer to the warning in Section 8 before proceeding. A suitable hoist and lifti ...
Automatic transmission operation (if equipped)
Brake-shift interlock This vehicle is equipped with a brake-shift interlock feature that prevents the gearshift lever from being moved from P (Park) unless the brake pedal is depressed. If you can ...