Rear shock absorbers (Van models) - removal, testing and refitting
Removal
1 Raise and support the rear of the vehicle on stands (see "Jacking and Vehicle Support").
Place a jack beneath the rear axle tube and just raise it slightly.
2 Disconnect the shock absorber lower mounting by unscrewing the nut and pivot bolt.
3 Unbolt the top mounting bracket from the body and withdraw the unit (see illustration).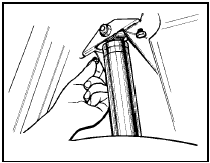 11.3 Removing the rear shock absorber top mounting bracket - Van models
4 Undo the nut and pivot bolt to separate the mounting bracket from the shock absorber.
Testing
5 Proceed as described in Section 10.
Refitting
6 Refitting is a reversal of removal, but if a new unit is being installed, prime it first in a similar way to that described for testing.
See also:
Timing belt and sprockets - removal and refitting
Note: Refer to the warning in Section 8 before proceeding. On models from mid-1985 (without a timing belt tensioner spring) the belt tension should be checked using Ford special tool No 21-113 aft ...
Temperature gauge sender unit - removal and refitting
Note: Suitable jointing compound will be required on refitting. Removal 1 With the engine cold unscrew the pressure cap on the thermostat housing or expansion tank as applicable, then refit it. T ...
Electrical fault-finding - general information
Note: Refer to the precautions given in "Safety first!" and in Section 1 of this Chapter before starting work. The following tests relate to testing of the main electrical circuits, and should not ...