Rear roadspring (Saloon and Estate models) - removal and refitting
Removal
1 Raise the rear of the car and support it on stands (see "Jacking and Vehicle Support").
Remove the roadwheel.
2 Support the suspension lower arm by placing a jack beneath the spring seating.
3 On models equipped with a rear anti-roll bar disconnect the bar from the shackles by levering them apart with a screwdriver (see illustration).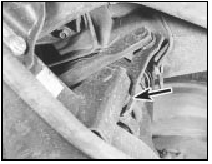 13.3 Anti-roll bar-to-lower arm shackle attachment (arrowed)
4 Undo the nut and remove the lower arm inboard pivot bolt (see illustration).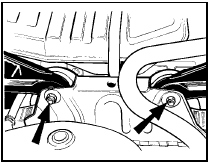 13.4 Lower arm inboard pivot nuts and bolts (arrowed) - Saloon and Estate models
5 Slowly lower the jack beneath the arm and remove the spring and insulator pad.
Refitting
6 Refitting is the reverse sequence to removal. If applicable the plastic sleeved end of the coil spring must be at the upper end when fitted. Tighten all nuts and bolts to the specified torque with the car standing on its roadwheels.
See also:
Headlamps - alignment
1 It is recommended that the headlamp alignment is carried out by a Ford dealer using specialist beam setting equipment. However, in an emergency the following procedure will provide an acceptable ...
Minor body damage - repair
Note: For more detailed information about bodywork repair, Haynes Publishing produce a book by Lindsay Porter called "The Car Bodywork Repair Manual". This incorporates information on such aspects ...
Pistons and connecting rods - removal and refitting
Removal 1 Remove the sump and the cylinder head. 2 Check the big-end bearing caps for identification marks and if necessary use a centre-punch to identify the caps and corresponding connecting ro ...