Rear roadspring (Saloon and Estate models) - removal and refitting
Removal
1 Raise the rear of the car and support it on stands (see "Jacking and Vehicle Support").
Remove the roadwheel.
2 Support the suspension lower arm by placing a jack beneath the spring seating.
3 On models equipped with a rear anti-roll bar disconnect the bar from the shackles by levering them apart with a screwdriver (see illustration).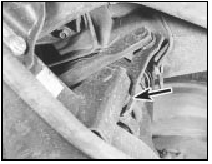 13.3 Anti-roll bar-to-lower arm shackle attachment (arrowed)
4 Undo the nut and remove the lower arm inboard pivot bolt (see illustration).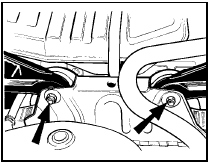 13.4 Lower arm inboard pivot nuts and bolts (arrowed) - Saloon and Estate models
5 Slowly lower the jack beneath the arm and remove the spring and insulator pad.
Refitting
6 Refitting is the reverse sequence to removal. If applicable the plastic sleeved end of the coil spring must be at the upper end when fitted. Tighten all nuts and bolts to the specified torque with the car standing on its roadwheels.
See also:
Engine - complete dismantling
1 The need for dismantling will have been dictated by wear or noise in most cases. Although there is no reason why only partial dismantling cannot be carried out to renew such items as the oil pum ...
Steering gear - removal, overhaul and refitting
Removal Note: New tie-rod balljoint split-pins must be used on refitting. 1 Set the front roadwheels in the straightahead position. 2 Raise the front of the vehicle and fit stands (see "Jacking ...
Hinge and lock check and lubrication (Every 12 000 miles or 12 months)
1 Work around the vehicle, and lubricate the bonnet, door and tailgate hinges with a light machine oil such as Duckhams Home Oil. 2 Lightly lubricate the bonnet release mechanism and exposed secti ...