Rear roadspring (Saloon and Estate models) - removal and refitting
Removal
1 Raise the rear of the car and support it on stands (see "Jacking and Vehicle Support").
Remove the roadwheel.
2 Support the suspension lower arm by placing a jack beneath the spring seating.
3 On models equipped with a rear anti-roll bar disconnect the bar from the shackles by levering them apart with a screwdriver (see illustration).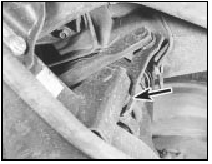 13.3 Anti-roll bar-to-lower arm shackle attachment (arrowed)
4 Undo the nut and remove the lower arm inboard pivot bolt (see illustration).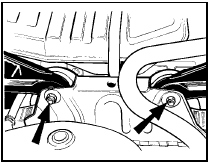 13.4 Lower arm inboard pivot nuts and bolts (arrowed) - Saloon and Estate models
5 Slowly lower the jack beneath the arm and remove the spring and insulator pad.
Refitting
6 Refitting is the reverse sequence to removal. If applicable the plastic sleeved end of the coil spring must be at the upper end when fitted. Tighten all nuts and bolts to the specified torque with the car standing on its roadwheels.
See also:
Coded keys
Note: Do not shield your keys with metal objects. This may prevent the receiver from recognising your key as a valid one. Note: Have all of your remaining keys erased and recoded if you lose a key ...
Owning
The 2007 C-MAX also had changes to its interior, upping sophistication. New switchgear features contemporary dials instead of buttons (there's also an optional touch-screen centre display), wh ...
FCC and RSS-210 Industry Canada Compliance
The Car2U system complies with Part 15 of the FCC rules and with RSS-210 of Industry Canada. Operation is subject to the following two conditions: (1) This device may not cause harmful interference, ...