Rear roadspring (Saloon and Estate models) - removal and refitting
Removal
1 Raise the rear of the car and support it on stands (see "Jacking and Vehicle Support").
Remove the roadwheel.
2 Support the suspension lower arm by placing a jack beneath the spring seating.
3 On models equipped with a rear anti-roll bar disconnect the bar from the shackles by levering them apart with a screwdriver (see illustration).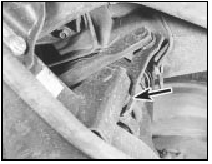 13.3 Anti-roll bar-to-lower arm shackle attachment (arrowed)
4 Undo the nut and remove the lower arm inboard pivot bolt (see illustration).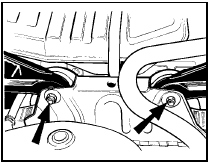 13.4 Lower arm inboard pivot nuts and bolts (arrowed) - Saloon and Estate models
5 Slowly lower the jack beneath the arm and remove the spring and insulator pad.
Refitting
6 Refitting is the reverse sequence to removal. If applicable the plastic sleeved end of the coil spring must be at the upper end when fitted. Tighten all nuts and bolts to the specified torque with the car standing on its roadwheels.
See also:
Bulbs
Replacing exterior bulbs Check the operation of all the bulbs frequently. Using the right bulbs Replacement bulbs are specified in the chart below. Headlamp bulbs must be marked with an authorized ...
Final drive oil level check (Every 12 000 miles (20 000 km) or 12 months)
1 Check the final drive oil level as follows. 2 Position the vehicle over a pit, or raise it at front and rear on ramps or axle stands. The vehicle must be level. 3 Wipe clean around the final dri ...
Engine mountings - renewal
1 The engine mountings incorporate hydraulic dampers and must be renewed if excessive engine movement is evident. 2 Working in the engine compartment, unscrew the central nuts securing the engine ...