Headlamp wiper motor - removal and refitting
Note: On vehicles fitted with foglamps, the headlamp unit must be removed when the righthand headlamp wiper motor is to be removed.
Removal
1 Disconnect the battery negative lead.
2 Disconnect the washer hose from the nozzle on the end of the wiper arm, then remove the wiper arm.
3 Pull the washer hose and retainer from the end of the motor shaft.
4 Remove the radiator grille panel.
5 Where applicable, prise the trim strip from the bottom of the headlamp unit for access to the wiper motor mounting bolts (see illustrations).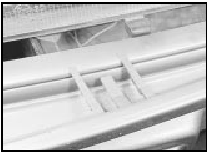 40.5a Prise the trim strip from the bottom of the headlamp unit . . .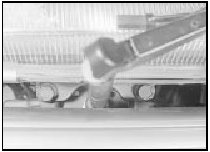 40.5b . . . for access to the headlamp wiper motor mounting bolts
6 Remove the two mounting bolts, then working under the wheel arch, slide the wiper motor rearwards, disconnect the wiring plug and withdraw the motor.
Refitting
7 Refitting is a reversal of removal, but on completion adjust the free length of the washer hose between the nozzle and the retainer on the motor shaft.
See also:
General information and precautions
Contact breaker ignition system The ignition system is divided into two circuits, low tension (primary) and high tension (secondary). The low tension circuit consists of the battery, ignition swit ...
Braking system
General information and precautions General information The braking system is of the dual circuit hydraulic type. The front and rear circuits are operated independently from a tandem master cylin ...
Cylinder head - dismantling and reassembly
Note: A valve spring compressor will be required during this procedure. New valve stem oil seals should be used on reassembly. 1.8 litre (R2A type) Dismantling 1 With the cylinder head removed, ...