Headlamp wiper motor - removal and refitting
Note: On vehicles fitted with foglamps, the headlamp unit must be removed when the righthand headlamp wiper motor is to be removed.
Removal
1 Disconnect the battery negative lead.
2 Disconnect the washer hose from the nozzle on the end of the wiper arm, then remove the wiper arm.
3 Pull the washer hose and retainer from the end of the motor shaft.
4 Remove the radiator grille panel.
5 Where applicable, prise the trim strip from the bottom of the headlamp unit for access to the wiper motor mounting bolts (see illustrations).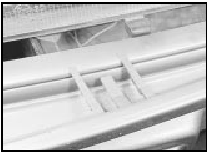 40.5a Prise the trim strip from the bottom of the headlamp unit . . .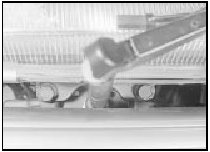 40.5b . . . for access to the headlamp wiper motor mounting bolts
6 Remove the two mounting bolts, then working under the wheel arch, slide the wiper motor rearwards, disconnect the wiring plug and withdraw the motor.
Refitting
7 Refitting is a reversal of removal, but on completion adjust the free length of the washer hose between the nozzle and the retainer on the motor shaft.
See also:
Coolant renewal (Every 24 000 miles or 2 Years)
Cooling system draining 1 It is preferable to drain the system when the coolant is cold. If it must be drained when hot, release the pressure cap on the thermostat housing (or expansion tank on la ...
Crankshaft and bearings - examination and renovation
1 Examine the bearing surfaces of the crankshaft for scratches or scoring and, using a micrometer, check each journal and crankpin for ovality. Where this is found to be in excess of 0.0254 mm (0. ...
Exhaust system - renewal
1 The layout of the exhaust system varies considerably according to model and engine. All except the RS Turbo versions can be renewed in sections; coupling sleeves are supplied, enabling an old se ...