Headlamp wiper motor - removal and refitting
Note: On vehicles fitted with foglamps, the headlamp unit must be removed when the righthand headlamp wiper motor is to be removed.
Removal
1 Disconnect the battery negative lead.
2 Disconnect the washer hose from the nozzle on the end of the wiper arm, then remove the wiper arm.
3 Pull the washer hose and retainer from the end of the motor shaft.
4 Remove the radiator grille panel.
5 Where applicable, prise the trim strip from the bottom of the headlamp unit for access to the wiper motor mounting bolts (see illustrations).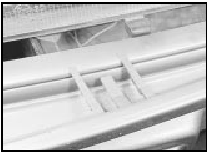 40.5a Prise the trim strip from the bottom of the headlamp unit . . .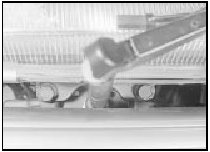 40.5b . . . for access to the headlamp wiper motor mounting bolts
6 Remove the two mounting bolts, then working under the wheel arch, slide the wiper motor rearwards, disconnect the wiring plug and withdraw the motor.
Refitting
7 Refitting is a reversal of removal, but on completion adjust the free length of the washer hose between the nozzle and the retainer on the motor shaft.
See also:
Front and rear brake pad/shoe check (Every 6000 miles (10 000 km) or 6 months)
1 Firmly apply the handbrake, then jack up the front and rear of the car and support it securely on axle stands (see "Jacking and vehicle support"). 2 For a quick check, the front brake disc pads ...
Minor body damage - repair
Note: For more detailed information about bodywork repair, Haynes Publishing produce a book by Lindsay Porter called "The Car Bodywork Repair Manual". This incorporates information on such aspects ...
Door window - removal and refitting
Front door 1 Remove the door inner trim panel. 2 Where necessary for access, peel back the waterproof plastic sheet from the door. 3 Remove the door mirror. 4 Remove the window channel extension ...