Steering wheel - removal and refitting
Removal
1 According to model, either pull off the steering wheel trim, prise out the insert which carries the Ford motif at the centre, or carefully prise up and lift off the horn push followed by the contact plate (see illustrations).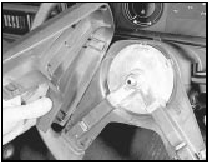 22.1a Steering wheel trim removal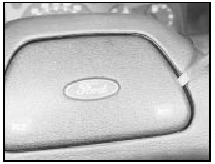 22.1b Prising up the steering wheel horn push . . .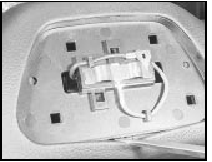 22.1c . . . followed by the contact plate
2 Insert the ignition key and turn it to position I.
3 Hold the steering wheel from turning and have the front roadwheels in the straightahead attitude. Unscrew the steering wheel retaining nut using a socket and extension.
4 Withdraw the steering wheel from the shaft.
No great effort should be necessary, as the wheel is located on a hexagonal-section shaft, which does not normally cause the binding associated with splined shafts. However, if difficulty is experienced, a puller may be used to withdraw the wheel - take adequate precautions to avoid damage to the finish.
5 Where applicable note the steering shaft direction indicator cam which has its peg uppermost.
Refitting
6 Refitting is the reverse sequence to removal. Ensure that the direction indicator switch is in the neutral position (this will avoid the possibility of damage to the selfcancelling mechanism). Check that the roadwheels are still in the straight-ahead position and locate the steering wheel with the larger section between the spokes uppermost. Tighten the steering wheel retaining nut to the specified torque.
See also:
Windshield washer fluid
Add fluid to fill the reservoir if the level is low. In very cold weather, do not fill the reservoir completely. Only use a washer fluid that meets Ford specifications. Do not use any special wa ...
General information
Have your vehicle serviced regularly to help maintain its roadworthiness and resale value. There is a large network of Ford Authorised Repairers that are there to help you with their professional ...
Computer module (ABS) - removal and refitting
Removal 1 Disconnect the battery. 2 Working inside the vehicle, prise out the facia trim panel from the passenger's side. Remove the insulation. 3 To remove the now exposed module, push it as ne ...