Mixture (CO) adjustment potentiometer - removal and refitting
Removal
1 The potentiometer is located on the side of the left-hand suspension turret (see illustration).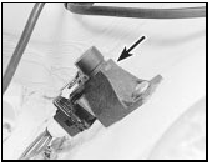 17.1 Mixture (CO) adjustment potentiometer (arrowed) - 1.6 EFI engine
2 Disconnect the battery negative lead.
3 Disconnect the potentiometer wiring plug.
4 Remove the securing screw and withdraw the potentiometer.
Refitting
5 Refitting is a reversal of removal, but on completion check and if necessary adjust the mixture as described earlier in this Chapter 1.
See also:
Anti-theft alarm - location, removal and refitting
Note: The alarm system has a self-diagnosis function, which allows a Ford dealer to carry out fault diagnosis, using suitable specialist equipment. In the event of a problem with the alarm system, ...
Engine mountings - renewal
1 The engine mountings incorporate hydraulic dampers and must be renewed if excessive engine movement is evident. 2 Working in the engine compartment, unscrew the central nuts securing the engine ...
Central door locking system components - removal and refitting
General 1 On pre-1986 models the locks, with the exception of the one on the driver's door, are actuated by solenoids (see illustration). 18.1 Layout of the solenoid operated central door lockin ...