Mixture (CO) adjustment potentiometer - removal and refitting
Removal
1 The potentiometer is located on the side of the left-hand suspension turret (see illustration).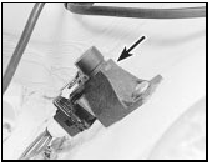 17.1 Mixture (CO) adjustment potentiometer (arrowed) - 1.6 EFI engine
2 Disconnect the battery negative lead.
3 Disconnect the potentiometer wiring plug.
4 Remove the securing screw and withdraw the potentiometer.
Refitting
5 Refitting is a reversal of removal, but on completion check and if necessary adjust the mixture as described earlier in this Chapter 1.
See also:
Major operations requiring engine removal
The following work can only be carried out after removal of the engine from the car: a) Crankshaft main bearings - renewal. b) Crankshaft - removal and refitting. c) Flywheel - removal and refitti ...
Electrical fault-finding - general information
Note: Refer to the precautions given in "Safety first!" and in Section 1 of this Chapter before starting work. The following tests relate to testing of the main electrical circuits, and should not ...
Introduction
General information This Chapter is designed to help the home mechanic maintain his/her vehicle for safety, economy, long life and peak performance. The Chapter contains a master maintenance sche ...