Mixture (CO) adjustment potentiometer - removal and refitting
Removal
1 The potentiometer is located on the side of the left-hand suspension turret (see illustration).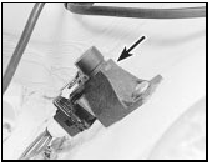 17.1 Mixture (CO) adjustment potentiometer (arrowed) - 1.6 EFI engine
2 Disconnect the battery negative lead.
3 Disconnect the potentiometer wiring plug.
4 Remove the securing screw and withdraw the potentiometer.
Refitting
5 Refitting is a reversal of removal, but on completion check and if necessary adjust the mixture as described earlier in this Chapter 1.
See also:
Pistons and connecting rods - removal and refitting
1.8 litre (R2A type) Removal 1 With the engine removed from the vehicle, remove the sump and the cylinder head. 2 Check the big-end caps for identification marks and if necessary use a centre-pun ...
Rear seats
WARNINGS: When folding the seatbacks down, take care not to get your fingers caught between the seatback and seat frame. Make sure that the seats and the seatbacks are secure and fully engaged ...
Child restraint and safety belt maintenance
Inspect the vehicle safety belts and child safety seat systems periodically to make sure they work properly and are not damaged. Inspect the vehicle and child seat safety belts to make sure there ar ...