Steering column lock - removal and refitting
Note: For ignition switch removal see Chapter 5. A new shear-bolt will be required on refitting.
Removal
1 To remove the ignition switch/column lock, the shear-head bolt must be drilled out.
2 Access for drilling can only be obtained if the steering column is lowered. To do this, remove the shrouds from the upper end of the column by extracting the fixing screws.
Disconnect the battery earth lead.
3 Unscrew the bonnet release lever mounting screw and position the lever to one side.
4 Disconnect the steering column clamps.
The lower one is of bolt and nut type, while the upper one is of stud and nut design.
5 Lower the shaft/column carefully until the steering wheel rests on the seat cushion.
6 Centre-punch the end of the shear-bolt which secures the steering column lock and then drill it out. Remove the ignition switch/column lock (see illustrations).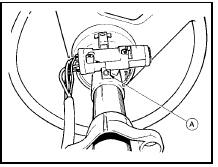 24.6a Steering column lock assembly shear bolt (A) Pre-1986 version shown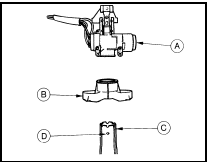 24.6b Steering column lock components - pre-1986 models
A Lock housing
B Upper clamp
C Column tube
D Shear bolt
indentation
Refitting 7 When refitting the lock, check for correct operation and then tighten the new shear-bolt securing bolt until its head breaks off.
8 Raise the steering column and reconnect the clamps.
9 Refit the bonnet release lever and the column shrouds.
10 Reconnect the battery.
See also:
Front hub bearings - renewal
Note: A new driveshaft nut, and a new tie-rod balljoint split-pin must be used on refitting. 1 Remove the wheel trim and release the staking on the driveshaft retaining nut using a suitable punch. ...
Emission control system
Your vehicle is equipped with various emission control components and a catalytic converter which will enable your vehicle to comply with applicable exhaust emission standards. To make sure that the ...
Cylinder head and pistons - decarbonising
OHV engines 1 With the cylinder head removed (Section 4), the carbon deposits should be removed from the combustion spaces using a scraper and a wire brush fitted into an electric drill. Take care ...