Radiator grille - removal and refitting
Pre-1988 models Removal
1 The grille is held in position by four spring clips (see illustration).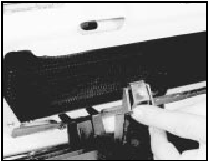 10.1 Radiator grille spring clip - pre-1988 models
2 Once these clips are released, the grille can be removed from the body panel.
Refitting
3 Refit by reattaching the spring clips.
1988 models onwards
4 The radiator grille is integral with the bumper moulding, and is removed with the bumper.
See also:
General information
Have your vehicle serviced regularly to help maintain its roadworthiness and resale value. There is a large network of Ford Authorised Repairers that are there to help you with their professional ...
Balance/fade control
The fade control is used to adjust the sound distribution from front to rear in vehicles equipped with rear speakers. The balance control is used to adjust the sound distribution between the left ...
Heated Exhaust Gas Oxygen (HEGO) sensor - removal and refitting
Note: A new sealing ring will be required on refitting. Removal 1 Apply the handbrake, then jack up the front of the vehicle and support it on axle stands (see "Jacking and Vehicle Support"). 2 ...