Radiator grille - removal and refitting
Pre-1988 models Removal
1 The grille is held in position by four spring clips (see illustration).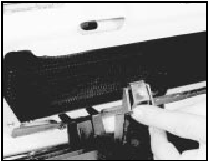 10.1 Radiator grille spring clip - pre-1988 models
2 Once these clips are released, the grille can be removed from the body panel.
Refitting
3 Refit by reattaching the spring clips.
1988 models onwards
4 The radiator grille is integral with the bumper moulding, and is removed with the bumper.
See also:
Steering angles and wheel alignment
1 Accurate front wheel alignment is essential to good steering and for even tyre wear. Before considering the steering angles, check that the tyres are correctly inflated, that the roadwheels are ...
Radiator - removal and refitting
Removal 1 Disconnect the battery negative lead. 2 Drain the cooling system. 3 If not already done, disconnect the bottom hose from the radiator. 4 Disconnect the top hose and the expansion tank ...
Valve clearance adjustment - OHV and HCS engines (Every 12 000 miles or 12 months)
OHV engines 1 This operation should be carried out with the engine cold and the air cleaner and rocker cover removed. 2 Using a ring spanner or socket on the crankshaft pulley bolt, turn the cran ...