Radiator grille - removal and refitting
Pre-1988 models Removal
1 The grille is held in position by four spring clips (see illustration).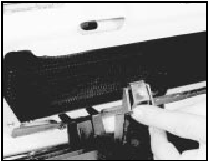 10.1 Radiator grille spring clip - pre-1988 models
2 Once these clips are released, the grille can be removed from the body panel.
Refitting
3 Refit by reattaching the spring clips.
1988 models onwards
4 The radiator grille is integral with the bumper moulding, and is removed with the bumper.
See also:
Fuel system - depressurising
Warning: The fuel system will remain pressurised after the engine is switched off. Comply with relevant safety precautions during this operation and refer to the "Safety First" Section at the beg ...
Engine/automatic transmission assembly - reconnection and refitting
1 Reverse the procedure described in Section 11, noting the following points. 2 Check that the engine adapter plate is correctly positioned on its locating dowels. 3 As the torque converter is onl ...
Ford VV carburettor - removal and refitting
Note: Refer to the warning at the end of Section 1 before proceeding. A new gasket must be used on refitting. Removal 1 Disconnect the battery negative lead. 2 Remove the air cleaner (Section 2). ...