Radiator grille - removal and refitting
Pre-1988 models Removal
1 The grille is held in position by four spring clips (see illustration).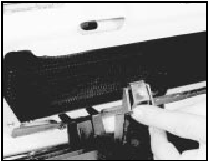 10.1 Radiator grille spring clip - pre-1988 models
2 Once these clips are released, the grille can be removed from the body panel.
Refitting
3 Refit by reattaching the spring clips.
1988 models onwards
4 The radiator grille is integral with the bumper moulding, and is removed with the bumper.
See also:
Interior trim panels - removal and refitting
Rear quarter trim panel Removal 1 Unbolt the seat belt from its floor mounting. 2 Pass the belt buckle slide through the panel aperture. 3 Pull the seat cushion and backrest forward. 4 Extract t ...
Brake drum - inspection and renewal
Note: Before starting work, refer to the note at the beginning of Section 2 concerning the dangers of asbestos dust. 1 Whenever a brake drum is removed, brush out dust from it, taking care not to ...
Cylinder head and pistons - decarbonising
OHV engines 1 With the cylinder head removed (Section 4), the carbon deposits should be removed from the combustion spaces using a scraper and a wire brush fitted into an electric drill. Take care ...