Tailgate/boot lid lock and cylinder - removal and refitting
Removal
1 Remove the trim panel as described in Section 32.
2 Extract the lock cylinder retaining clip, disconnect the control rods and remove the cylinder.
3 Undo the three screws and detach the lock assembly (see illustration).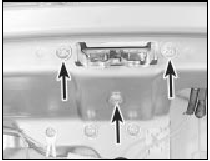 16.3 Tailgate lock retaining screws (arrowed)
Refitting 4 Refitting is a reversal of removal
See also:
Bonnet - removal and refitting
Removal 1 Open the bonnet and support it on its stay. 2 Disconnect the screen washer pipe on the underside of the bonnet lid (see illustration). 7.2 Disconnecting the windscreen washer fluid pip ...
Throttle cable - adjustment, removal and refitting
Adjustment The procedure is the same as described in Part A of this Chapter for carburettor engines, except that the cable adjuster is situated in a bracket alongside the throttle housing. Remova ...
Modulator drivebelt (antilock braking system) - removal and refitting
Note: Whenever an ABS modulator adjuster bolt is slackened or removed, the bolt threads should be lightly coated with grease to prevent the possibility of bolt seizure. Take care not to contaminat ...