Tailgate/boot lid lock and cylinder - removal and refitting
Removal
1 Remove the trim panel as described in Section 32.
2 Extract the lock cylinder retaining clip, disconnect the control rods and remove the cylinder.
3 Undo the three screws and detach the lock assembly (see illustration).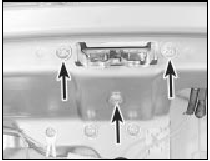 16.3 Tailgate lock retaining screws (arrowed)
Refitting 4 Refitting is a reversal of removal
See also:
Cooling, heating and ventilation systems
The cooling system is of the pressurised pump-assisted thermo-syphon type. The system consists of the radiator, water pump, thermostat, electric cooling fan, expansion tank and associated hoses. ...
Throttle housing - removal and refitting
Note: During manufacture the throttle plate is adjusted so that it is fractionally open, to avoid the possibility of it jamming shut, and it must not be repositioned. Idle speed adjustment is prov ...
Handbrake lever - removal and refitting
Removal 1 Chock the front wheels, raise and support the vehicle at the rear using stands (see "Jacking and Vehicle Support") then release the handbrake. 2 Working underneath, extract the spring c ...