Automatic transmission fluid level check (Every 12 000 miles (20 000 km) or 12 months)
1 Fluid level should be checked with the transmission at operating temperature (after a run) and with the vehicle parked on level ground.
2 Open and prop the bonnet. With the engine idling and the handbrake and footbrake applied, move the gear selector through all positions three times, finishing up in position "P", 3 Wait one minute. With the engine still idling, withdraw the transmission dipstick (see illustration).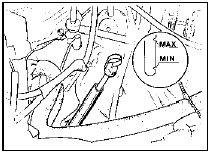 17.3 Automatic transmission dipstick location and markings
Wipe the dipstick with a clean lint-free rag, re-insert it fully and withdraw it again. Read the fluid level at the end of the dipstick: it should be between the two notches.
4 If topping-up is necessary, do so via the dipstick tube, using clean transmission fluid of the specified type (see illustration). Do not overfill.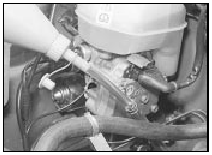 17.4 Topping-up the transmission fluid
5 Stop the engine, refit the dipstick and close the bonnet.
6 Note that if the fluid level was below the minimum mark when checked or is in constant need of topping-up, check around the transmission for any signs of excessive fluid leaks.If present, leaks must be rectified without delay.
7 If the colour of the fluid is dark brown or black this denotes the sign of a worn brake band or transmission clutches, in which case have your Ford dealer check the transmission at the earliest opportunity.
See also:
Carburettor (Weber 2V type) - fast idle speed adjustment
1 This procedure does not apply to models fitted with a carburettor stepper motor, for which no adjustment is possible. 2 Check the idle speed and mixture. The idle speed must be correct before at ...
Radiator fan thermal switch - testing, removal and refitting
Testing 1 The thermal switch is located on the side of the thermostat housing on early OHV engine models and in the thermostat housing cover on later OHV versions. On all CVH engines, the switch ...
Ford Escort maintenance schedule
The maintenance intervals in this manual are provided with the assumption that you, not the dealer, will be carrying out the work. These are the minimum maintenance intervals recommended by the man ...