Rear hub bearings - renewal
1 Raise and support the rear of the vehicle on stands (see "Jacking and Vehicle Support").
Remove the roadwheel and release the handbrake.
2 On fuel-injected models and Van versions undo the retaining screw and withdraw the brake drum from the hub.
3 Tap off the dust cap from the end of the hub (see illustration).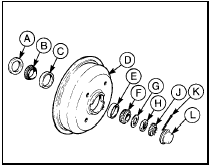 9.3 Exploded view of the rear hub bearings
A Oil seal
B Inboard bearing
C Bearing outer
track
D Hub and drum
E Bearing outer
track
F Outboard bearing
G Thrustwasher
H Retaining nut
J Nut retainer
K Split pin
L Dust cap
4 Extract the split pin and remove the nut retainer.
5 Unscrew and remove the nut and take off the thrustwasher.
6 Pull the hub/drum off the stub axle slightly then push it back. This will now leave the outboard bearing ready to be taken off the stub axle (see illustration).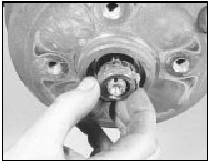 9.6 Rear hub outboard bearing removal
7 Withdraw the hub/drum.
8 Prise the oil seal from the hub and take out the inboard taper roller bearing (see illustration).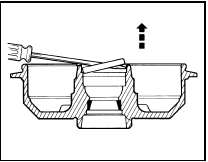 9.8 Removing the hub bearing oil seal
9 Using a punch, drive out the bearing outer tracks, taking care not to burr the bearing seats.
10 If new bearings are being fitted to both hubs, do not mix up the bearing components but keep them in their individual packs until required.
11 Drive the new bearing tracks squarely into their hub recesses.
12 Pack both bearings with the specified grease, working plenty into the rollers. Be generous, but there is no need to fill the cavity between the inner and outer bearings.
13 Locate the inboard bearing and then grease the lips of a new oil seal and tap it into position.
14 Fit the hub onto the stub axle, taking care not to catch the oil seal lips.
15 Fit the outboard bearing and the thrustwasher and screw on the nut.
16 Adjust the bearings (Section 8).
17 On fuel-injected models and Van versions refit the brake drum and secure with the retaining screw.
18 Refit the roadwheel and lower the car to the ground.
See also:
Bulb specification chart
1 Fit a replacement with the same rating as the one you have removed. ...
Automatic climate control
Automatic climate control The system controls the temperature, amount and distribution of the air flow automatically and adjusts them according to the driving and weather conditions. Pressing t ...
Changing the remote control battery
Make sure that you dispose of old batteries in an environmentally friendly way. Seek advice from your local authority regarding recycling. Remote control with a folding key blade 1. Insert a ...